TDP 6s Desktop Tablet Press
The TDP 6s is a single punch desktop format tablet press that is based on the highly popular TDP 5, but featuring an upgraded drive mechanism, a more powerful motor and greater maximum pressure. The TDP 6s can also produce the largest tablets of the TDP range, with a maximum diameter of 22 mm.
Fill out your details and our team will provide you with a full quote as soon as possible.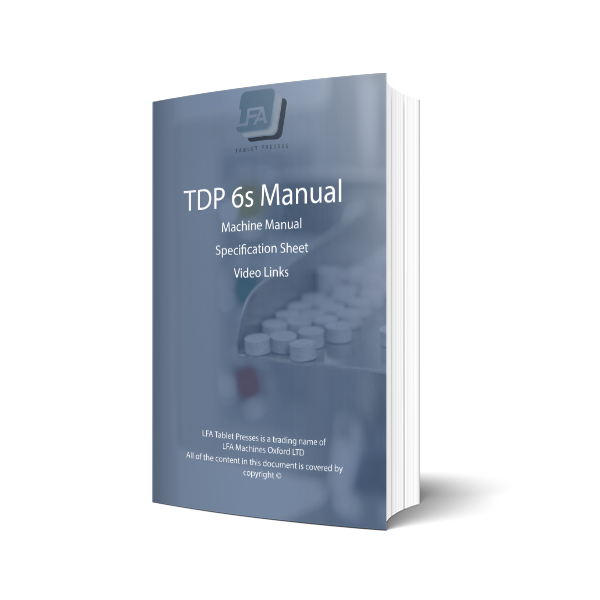 Download the TDP 6s Manual and Specification Sheet for free
This information will help you figure out what the TDP 6s can do for your project.
The TDP 6s® has been created to be fast and flexible and can run on either electricity or manual power. A particular strength of this machine is that it can be used to produce any quantity of pills, from a single tablet up to batch production at 3,000 tablets an hour. For this reason, it is an excellent solution for laboratories, research and development work, or any application that requires versatility and ease of use. Companies developing new formulas, pharmaceutical or medical researchers undertaking clinical trials, and hospitals producing customised medication for individual patients are just some of the popular applications for the TDP 6s pill press.
Solidly manufactured to a high standard, and with simple maintenance needs, the TDP 6s is a durable and reliable machine that can be depended on in any situation. It is also compatible with a vast range of dies and can be used to produce tablets of almost any shape. Thanks to its impressive maximum pressure the TDP 6s produces tablets of an outstanding quality, proving that ease of use and flexibility do not have to mean sacrificing tablet quality in any way.
TDP 6s Main benefits at a glance:
Exceptional maximum pressure for solid tablets that last
Powerful motor
Twin belts
Fast and reliable
Flexible output
Electric or manually powered
Wide raw material compatibility
Low-maintenance
Low consumption
Works with a 200 g minimum quantity of raw materials
Presses tablets of any shape
Adaptable tablet diameter, depth and hardness
Able to produce large, 22 mm tablets
Option to stamp designs on tablet surface
Features
The TDP 6s tablet press features a powerful 1.1 kW motor that drives a twin belt system to give an impressive 60 kN maximum pressure. This ensures that whatever type of tablet you need to create, the TDP 6s will be equal to the job, and with pressure to spare. Able to press tablets up to an expansive 25 mm in diameter, the TDP 6s is the perfect machine for creating herbal supplements or mineral supplements, both of which often require a large tablet that takes plenty of muscle to compress.
The TDP 6s' adjustable fill depth mechanism caters for a maximum fill depth of 16 mm and produces tablets up to 6 mm thick. It is simple to change the die on the TDP 6s, and with numerous dies easily available you can produce tablets of both regular and irregular outlines in virtually any shape you want. The density of your tablets can also be customised, letting you take advantage of the full potential of that hefty 60 kN pressing power. Plus you can customise the surface of the tablet, by using a die with an engraved finish. This is particularly useful for users engaged in clinical trials or other research applications, as it lets you produce small batches of easily identified pills.
The TDP 6s can be used with most granular materials, and with many powders. But it is not intended for use with overly moist materials or large quantities of superfine powder.
A real strength of the TDP 6s is its flexibility. You can press a few tablets by hand while you experiment with different formulations. Then, when you find the formula you are looking for and want to ramp up production for a full-scale trial, give the TDP 6s' motor its head and let it churn out batches at up to 3,000 tablets an hour.
With a small footprint, comparatively lightweight for its class, easy-to-use hopper and efficient powder consumption, the TDP 6s is an outstanding choice for wide-ranging applications across almost any industry.
Technical Specifications
The TDP 6s tablet press has measurements of 890 mm x 500 mm x 880 mm and weighs 150 kg (352 lbs). Its motor operates at a maximum power of 1.1 kW and it can run on mains power that supplies either 110 V or 220 V.
TDP 6S Tablet Press in Use
The TDP 6s is an exceptionally powerful tablet press that produces dense, durable tablets from almost any dry, granular material. Thanks to its solid build and rugged design it is a very reliable machine that has earned a place in numerous laboratories and research institutes, where it is prized for its flexibility. There are few if any other machines that can so perfectly meet the needs of these types of user, being small, easy to relocate, fast, extremely flexible in its output and input requirements, and reliable.
A key element of its flexibility is the TDP 6s' manual option. After filling the hopper, you can crank out a single tablet, or a handful of tablets, just by turning the handwheel. With an ability to run on just 200 g of raw material, this makes it easy to feel your way through the early stages of creating and refining a formula, without having to mix (and potentially waste) large batches of material. Then, when you need to produce larger numbers of tablets, you can run the TDP 6s on electricity and watch it churn out tablets by the thousand.
Adjusting the fill depth and tablet density, and changing the die on the TDP 6s can all be achieved in just a couple of minutes by loosening and tightening a few nuts or bolts.
It is a very easy machine to maintain, too, with just basic lubrication and a twice monthly inspection to keep it running smoothly. The resilient design of the TDP 6s ensures that operating problems are rare.
Our View
A more powerful version of the hugely popular TDP 5, it is not surprising that the TDP 6s is an accomplished tablet press that works well and is easy to run. Offering more pressure than its smaller stablemate, and able to press larger tablets, the TDP 6s expands the application of the TDP 5's successful formula and increases the range of tablets you can press.
| Name | Value |
| --- | --- |
| Product | TDP 6s |
| Number of dies | 1 |
| Max Pressure (kN) | 60 |
| Max Diameter of Tablet | 22mm / 0.86in |
| Max Fill Depth | 16mm / 0.63in |
| Max Thickness of Tablet | 6mm / 0.24in |
| Max Production Capacity Per Hour | 3000 |
| Number of Filling Stations | 1 |
| Double Layered Tablet | No |
| Power USA | 110v, 1 phase, 0.75kW, 60Hz |
| Power UK | 240v, 1 phase, 0.75kW, 50Hz |
| AMP's | 13 |
| Height | 890mm / 35in |
| Width | 500mm / 20in |
| Depth | 880mm / 34.6in |
| Weight | 150kg / 330.7lbs |
How Much Profit Will This Machine Generate?
Are you able to calculate the amount of profit your business generates per tablet? If so, this calculator will be able to tell you how many hours you will have to run this tablet press to cover its investment.
It will also be able to tell you the amount of profit it will generate every hour you run this tablet press, which makes this calculator a powerful tool when deciding on which tablet press is right for you or your business.
Profit Generated Per Hour
This machine returns it's investment in hours