TDP 6s Desktop Tablet Press
Manufactured by LFA in Taiwan, the TDP 6s v2 is a single punch desktop format tablet press that is based on the highly popular TDP 5, but featuring an upgraded drive mechanism, a more powerful motor, and greater maximum pressure. The TDP 6s can also produce the largest tablets of the TDP range, with a maximum diameter of 25 mm.
Connect with Our Team
If you have a question or would like more details on the TDP 6s Desktop Tablet Press, please complete the form below and someone from our team will be in touch with you soon.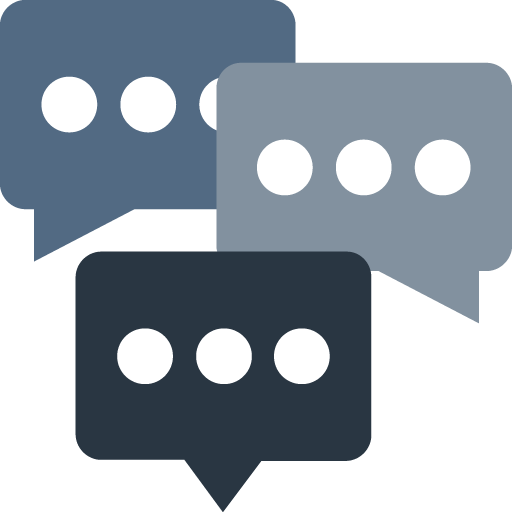 The TDP 6s v2 has been upgraded from the original model with new bearings and long-lasting parts. It is still however fast and flexible and can run on either electricity or manual power. If you are looking for a tablet press to help you develop new tablets or to test concepts prior to rolling them out for production, the TDP 6s v2's ability to produce a wide range of tablet sizes in small quantities means that this is definitely the machine for you. Designed to suit the needs of the laboratory and developmental work rather than large scale manufacturing, the TDP 6s v2 is nevertheless capable of producing any quantity from just a few tablets all the way up to small production runs of up to 3,000 tablets an hour.
The appeal of this tablet press lies in its versatility, combined with a strong feature set and the high quality of its manufacture. The latter ensures excellent reliability. For all these reasons the TDP 6s v2 is a popular choice for use in research institutes, laboratories, food technology applications, pharmaceutical development, chemical plants, hospitals, or any location where flexibility, ease of use, and speed are at a premium.
Main Benefits of the TDP 6s v2 Tablet Press
Highest Pressure in Category - The TDP 6s v2 like its predecessor has the highest total compression force in its range. This extremely high pressure makes it better suited for products that are more difficult to press like herbal supplements and products that are not directly compressible
Affordability - Click on the "profit calculator" tab above and see for yourself how fast this pill press will pay for itself. This is a profit-generating machine and few investments exist that pay for themselves this quickly.
Training - We offer free training at an LFA facility with every purchase. However, many customers prefer to use our video tutorial database.
Great For Developing New Products - The TDP 6s v2 works with just 200 g of raw materials. If you're on a budget, this means you won't have to waste expensive active ingredients before you know your tabletting mix will press properly.
Press Tablets Of Any Shape - To help you stand out from the competition, you can choose a shape and size that feels right for your brand.
Easy To Change Tooling - If you're creating multiple products, tooling can be changed easily and quickly to keep downtime low. See a video tutorial here.
3,000 Tablets Per Hour- The TDP 6s v2 is designed for small batch runs and R&D, but if your business grows fast, the TDP 6s v2 will be able to keep up with the demand while you look into more highly productive rotary tablet presses.
Choose Your Tablet Weight and Size - The TDP 6s v2's fill depth is 18 mm, allowing plenty of room for an effective dose of your active ingredient. This tutorial video explains setting up and controlling your tablet weight.
Tutorials - The TDP range requires slightly more from the operator than the RTP range. That's why we've created over 75+ tutorial videos on every aspect of creating your tablets on the TDP 6s v2, as well as tackling the most common problems. Find them here.
Improvements From The Old TDP 6s
Longer Lasting - The TDP 6s v2 is manufactured by Computer Numerical Control technology meaning there is no manual process in manufacturing. Every part has been built to high tolerances.
Easy-to-see Powder Flowability - The boot and hopper are made out of clear food-grade plastic which is dishwashable, and so you can see how well the powder is flowing.
Produces Thicker Tablets - The fill depth has increased by 50% to 18 mm, meaning you'll be able to produce thicker tablets with more active ingredients.
Longer Lasting Paintwork - The paintwork has been upgraded to 3 layers of hard enamel. It is longer lasting and less likely to chip than the previous version of the TDP 6s.
Rust Resistant - All parts are coated with rust-resistant materials so your TDP 6s v2 lasts longer.
The motor is quieter, vibrates less, is more efficient - The motor is much higher quality.
More Power - The belt converts more torque to the upper cam, and is therefore more efficient and will last much longer.
Much Easier To Transport - The shipping box fits pump trucks to make transportation much easier and safer.
How Much Training Do I Need To Operate The TDP 6s v2?
For the benefit of those who have never pressed a tablet before on a TDP 6s v2, we have created a video tutorial on everything you will need to know to produce tablets on your TDP 6s v2. You can find our training videos here.
With the help of our tutorial videos, and training either over Skype or at our facility, you will be able to operate the TDP 6s v2 with ease. It is a relatively simple tablet press, and around 80% of our customers had never used a tablet press before making their purchase.
Technical Specifications
The TDP 6s v2 tablet press has measurements of 890mm x 500 mm x 880 mm, and weighs 150 kg (330.7lbs). This machine can run on mains power that supplies either 110v or 220v depending on the specifications of the country of use.
TDP 6s v2 Tablet Press in Use
The TDP 6s is an exceptionally powerful tablet press that produces dense, durable tablets from almost any dry, granular material. Thanks to its solid build and rugged design it is a very reliable machine that has earned a place in numerous laboratories and research institutes, where it is prized for its flexibility. There are few if any other machines that can so perfectly meet the needs of these types of user, being small, easy to relocate, fast, extremely flexible in its output and input requirements, and reliable.
A key element of its flexibility is the TDP 6s' manual option. After filling the hopper, you can crank out a single tablet, or a handful of tablets, just by turning the handwheel. With an ability to run on just 200 g of raw material, this makes it easy to feel your way through the early stages of creating and refining a formula, without having to mix (and potentially waste) large batches of material. Then, when you need to produce larger numbers of tablets, you can run the TDP 6s on electricity and watch it churn out tablets by the thousand.
Adjusting the fill depth and tablet density, and changing the die on the TDP 6s can all be achieved in just a couple of minutes by loosening and tightening a few nuts or bolts.
It is a very easy machine to maintain, too, with just basic lubrication and a twice monthly inspection to keep it running smoothly. The resilient design of the TDP 6s ensures that operating problems are rare.
Research And Development
When developing tablets, you are often going to need to create different batches of tablets with slightly different formulations to find the most optimal. How well you can develop your product using focus groups and other testing methods is ultimately going to determine your product's success.
The TDP 6s v2 tablet press is exceptionally efficient in this practice because it only requires 200 g of raw materials, allowing you to produce just a few tablets for initial testing. Once the promising formulations have been identified, you can run the TDP 6s v2 at 3000 tablets per hour for larger batches.
The TDP 6s v2 makes it easy to quickly change tooling. See how easy it is to do here.
Shipping
Our TDP 6s v2 is in stock at all times in our UK, US, and Taiwan offices, and we dispatch from the office nearest to you so that your machine arrives as quickly and safely as possible. For more details, see our shipping page.
Is The TDP 6s v2 The Right Tablet Press For Me?
The TDP 6s v2 is for the small business or entrepreneur looking for a flexible tablet press to develop and produce tablets. The TDP 6s v2 is popular because of the large maximum tablet diameter and respectable output, making it hard to go wrong with the TDP 6s v2.
A more powerful version of the hugely popular TDP 5, it is not surprising that the TDP 6s is an accomplished tablet press that works well and is easy to run. Offering more pressure than its smaller stablemate, and being able to press larger tablets, the TDP 6s expands the application of the TDP 5's successful formula and increases the range of tablets you can press.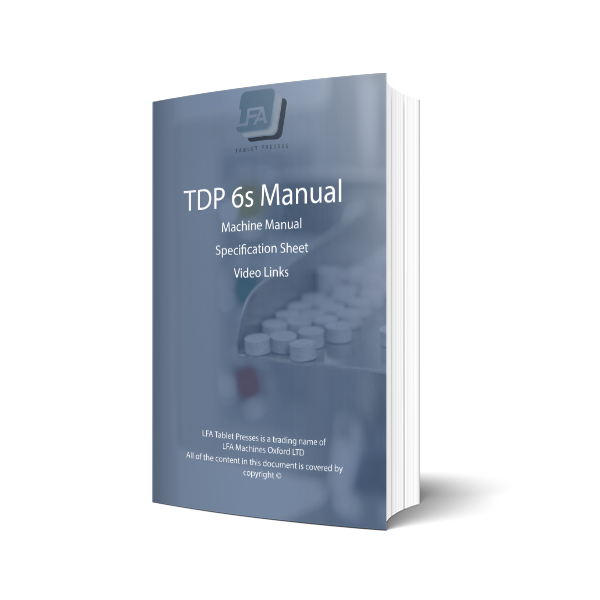 Download the TDP 6s Manual and Specification Sheet for free
This information will help you figure out what the TDP 6s can do for your project.
| Name | Value |
| --- | --- |
| Product | TDP 6s |
| Number of dies | 1 |
| Max Pressure (kN) | 60 |
| Max Diameter of Tablet | 25mm / 0.98in |
| Max Fill Depth | 18mm / 0.70in |
| Max Thickness of Tablet | 8mm / 0.31in |
| Max Production Capacity Per Hour | 3000 |
| Number of Filling Stations | 1 |
| Double Layered Tablet | No |
| Power USA | 110v, 1 phase, 0.75kW, 60Hz |
| Power UK | 240v, 1 phase, 0.75kW, 50Hz |
| AMP's | 13 |
| Height | 890mm / 35in |
| Width | 500mm / 20in |
| Depth | 880mm / 34.6in |
| Weight | 150kg / 330.7lbs |
How Much Profit Will This Machine Generate?
Are you able to calculate the amount of profit your business generates per tablet? If so, this calculator will be able to tell you how many hours you will have to run this tablet press to cover its investment.
It will also be able to tell you the amount of profit it will generate every hour you run this tablet press, which makes this calculator a powerful tool when deciding on which tablet press is right for you or your business.
Profit Generated Per Hour
This machine returns it's investment in hours