TDP 1.5 Desktop Tablet Press
The TDP 1.5 is a flexible and easily managed desktop format pill press that provides remarkable levels of output, performance and overall flexibility. Able to run on both electricity and manual power, this appliance is the perfect choice for anyone who requires a high-quality press for small batch manufacturing and trial runs that makes it suitable for r & d or similar applications.
Fill out your details and our team will provide you with a full quote as soon as possible.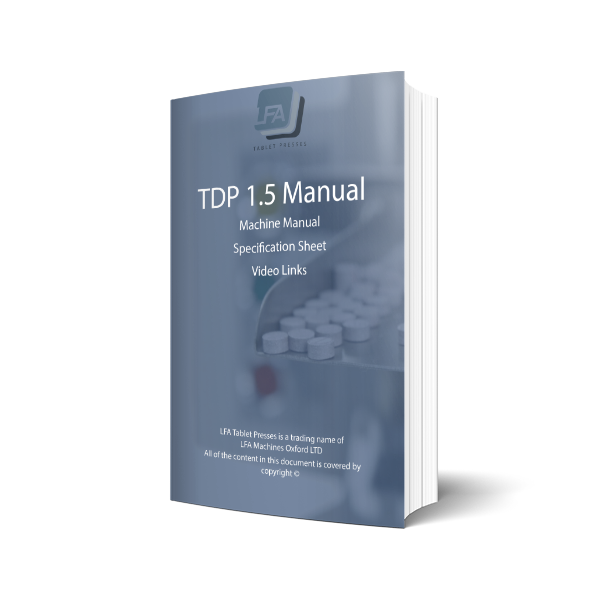 Download The TDP 1.5 Manual & Specification Sheet For Free
This information will help you figure out what the TDP 1.5 can do for you or your project.
If you have been looking for a tablet press to help you produce new products, or to test concepts before rolling them out for manufacturing, the TDP 1.5's ability to produce a range of tablet sizes in small volumes means that this is certainly the appliance to suit your needs. Made to match the demands of laboratory and developmental tasks, instead of large scale production, the TDP 1.5 is nonetheless capable of producing any quantity from only a few tablets right up to small manufacturing runs up to 5,000 per hour.
The main benefit of this tablet press lies in its versatility, coupled with a strong feature set and the premium quality of its construct. The latter guarantees excellent reliability. For these reasons the TDP 1.5 is a popular option for use in research institutions, labs, foodstuff technology applications, pharmaceutical development, chemical plants and hospitals, or any facility where overall flexibility, simplicity of use and output are at a premium.
Main benefits of the TDP 1.5
Lightweight for its class
Compact footprint
Fast and reliable
Flexible output
Electric or manually powered
Wide raw material compatibility
Low-maintenance
Low consumption
Works with 200g minimum quantity of raw materials
Presses tablets of any shape
Adaptable tablet diameter, depth and hardness
Option to stamp designs on tablet
Suitable for motive or continuous sheeting
Features of the TDP 1.5 Tablet Press
The TDP 1.5 is a single punch pill press which has a maximum pressure of 15 kilonewtons. It is created to be installed on a bench, but can also easily be detached and relocated. The equipment provides an adjustable fill depth with a maximum depth of 12 mm (0.472in), and can produce tablets up to 8mm (0.315in) across and 6mm (0.236in) thick. The TDP 1.5 doesn't restrict you to standard shaped products. By simply swapping the mould on the appliance you can easily create tablets of nearly any shape you choose. Additionally you can alter the density of the pill being manufactured, and the machine provides the option for stamping designs onto the top of the pill, either to provide an appealing finish or for identification purposes. Due to the TDP 1.5's appeal with r & d applications, several users state that they find this a helpful aspect, as it allows small quantities of pills each made up ofa different formulation to be manufactured for clinical studies.
This press is compatible with the majority of granulated or powdered materials, however it's not designed for use with excessively moist substances or superfine powders.
Designed with convenience in mind, the TDP 1.5 is known as a highly functional machine which can either be electrically powered or run in manual mode. While in manual mode, the press is powered by just turning a cranking wheel. Combined with a small base and low weight for a press of this specification, this versatility makes the TDP 1.5 more flexible and portable than other machines offering equivalent overall performance.
Technical Specifications
The TDP 1.5 press has dimensions of 700 mm x 400 mm x 800 mm or 27.5 in x 15.7 in x 31.5 in, and weighs about 53.5 kilograms (118lbs). It has a turret speed of 1400 r/min while running on electric power, and its motor runs at a maximum power of 0.75 kW for single phase use, and 0.55 kW for three-phase use. The appliance can run on mains power that supplies either 110v or 220v.
TDP 1.5 Tablet Press in Use
This press is remarkably easy to use, and in spite of its compact size it delivers several benefits that separate it from comparable equipment.
To run the press by hand you simply place the raw products in the cone-shaped container, then grasp the wheel and rotate it gently. Tablets will then appear, ready to be bottled. It can be a straightforward process that anyone can learn quickly. If you're simply making a few pills this straightforwardness really comes into its own, and is also a main feature of the equipment. Alternatively, if you need to make a more substantial batch of tablets, just plug your tablet press in and it will operate quickly and efficiently on electric power.
Producing and testing products often necessitates the development of products formulated with similar but slightly varied formulations. The TDP 1.5 includes several characteristics which makes it particularly suited to this purpose.
Thirdly, the TDP 1.5 permits you to safeguard the efficacy of the testing procedure, by ensuring that what you produce can be easily recognized. This is crucial to make sure that the correct formula is provided to the right subject. The TDP 1.5 satisfies this problem due to the ease in which you can modify the shape, size or design of the tablets you make. Providing you have got a mould for the design you would like to make, you can switch the style promptly by detaching the hopper and unscrewing the feeder mechanism.


You can also swiftly alter the density and weight of the pills you create on the TDP 1.5, merely by unscrewing a nut on the connecting rod and modifying the pressure.
Maintenance of the TDP 1.5 is undemanding too, demanding nothing more than a twice monthly assessment, and greasing and oiling of key moving components. The equipment has been built to make this schedule as simple as possible.
LFA's View
The TDP 1.5 represents exceptional value and provides unmatched adaptability. Easy servicing as well as the choice of producing small runs by hand makes this a very suitable machine to use, whilst the capability to operate on electric power and produce larger batches of 5,000 tablets an hour effectively provides two devices in one. It isn't surprising the TDP 1.5 is among the most favored machines in its class.
| Name | Value |
| --- | --- |
| Product | TDP 1.5 |
| Number of dies | 1 |
| Max Pressure (kN) | 15 |
| Max Diameter of Tablet | 8mm / 0.315in |
| Max Fill Depth | 12mm / 0.472in |
| Max Thickness of Tablet | 6mm / 0.236in |
| Max Production Capacity Per Hour | 5400 |
| Number of Filling Stations | 1 |
| Double Layered Tablet | No |
| Motor (kW) | 0.55 |
| Number of Phases | 1 |
| AMP's | 13 |
| Volts | 240v (110 V on request) |
| Height | 800mm / 31.5in |
| Width | 400mm / 15.7in |
| Depth | 700mm / 27.5in |
| Weight | 53.5kg / 118lbs |
How Much Profit Will This Machine Generate?
Are you able to calculate the amount of profit your business generates per tablet? If so, this calculator will be able to tell you how many hours you will have to run this tablet press to cover its investment.
It will also be able to tell you the amount of profit it will generate every hour you run this tablet press, which makes this calculator a powerful tool when deciding on which tablet press is right for you or your business.
Profit Generated Per Hour
This machine returns it's investment in hours