TDP 0 Desktop Tablet Press
The TDP 0 Tablet Press is an advanced, manually operated pill press that is able to press round tablets up to 10 mm in diameter and 6 mm thick without the need for electrical power. Thanks to its compact dimensions, light weight and manual operation, the TDP 0 is popular in applications that require portability and simplicity of use, including field applications and for work carried out on location.
Fill out your details and our team will provide you with a full quote as soon as possible.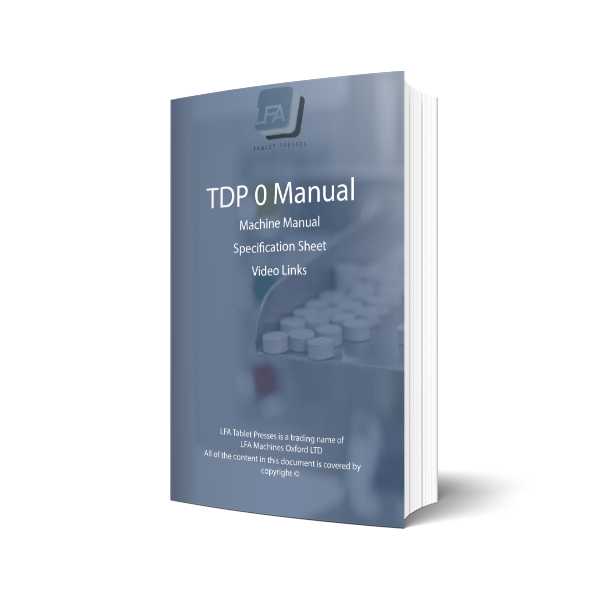 Download The TDP 0 Manual & Specification Sheet For Free
This information will help you figure out what the TDP 0 can do for you or your project.
With interchangeable dies and a useful 3.1 kN of pressure, the TDP 0 makes it easy to produce high quality tablets for use in universities, hospitals, laboratories and research institutes in the pharmaceutical, food and chemical industries. It is also ideal for any user who needs to make a small number of tablets, or to create tablets on an ad hoc basis.
Exceptionally cheap to run, as it uses no electric power, and simple to maintain, the TDP 0 is a fast and flexible way to produce small quantities of tablets.
Main benefits at a glance:
Small and light weight, making it far more portable than electric powered tablet presses
Advanced engineering makes it easy to produce high quality tablets without electricity
Up to 10 mm diameter round tablets
Easy to use and maintain
Interchangeable dies
No running costs
Well engineered, reliable machine for a wide range of applications
Features
The striking features of the TDP 0 are its light weight, compact size, easy portability and advanced design that makes it possible to produce good quality tablets without an outside power source. Operating completely without electricity, and with a very efficient mechanism to turn manual power into pressure, the TDP 0 is the perfect tablet press for any application that requires a simple but effective tabletting solution in the field or at a low running cost.
With no ongoing expenses beyond the occasional drop of lubricating oil, the TDP 0 is highly cost effective. Yet it can take a wide range of dies, and produce properly compacted tablets of a high standard.
TDP 0 Tablet Press in Use
Before using the TDP 0 you might imagine that it would require a lot of effort, but nothing could be further from the truth. Once you have installed the die and filled the machine with powder you simply crank the handle. It only takes a modest amount of effort, yet produces first rate tablets. It is simple enough to turn out twenty tablets a minute, and with a little practice you can easily manage forty a minute.
If you want to adjust the tablet thickness or hardness, both are easy to achieve with just a couple of movements.
That really is all there is to it. The machine itself weighs about 24 kg, and is small and compact enough to lift without too much difficulty. Compared to many hundreds of kilos in weight for most large commercial machines, the TDP 0 is a very light weight solution. Certainly, it is light enough to move around a hospital, laboratory or university faculty as needed.
LFA's View
The TDP 0 is a clever piece of engineering that makes it exceptionally easy to churn out tablets at a low cost and in almost any location that has a flat working space. The design is compact and eminently storable when not being used, yet it is highly effective in operation. Stable, surprisingly efficient in its conversion of manual energy into tabletting pressure, and simple to maintain, this is the ideal tablet press for small scale tabletting where the cost and space associated with larger machines cannot be justified. Yet it produces excellent tablets that are strong and durable.
| Name | Value |
| --- | --- |
| Number of dies | 1 |
| Production capacity | 30-50/min |
| Diameter of the tablets | 5-10 mm |
| Thickness of tablet | 2-6 mm |
| Max pressure | 3.1 kN |
| Number of filling stations | 1 |
| Double layered tablet | No |
| Weight | 25.4 kg / 56 lbs |
| Height | 51 cm / 20 in |
| Width | 30 cm / 11.8 in |
| Depth | 22 cm / 8.6 in |
How Much Profit Will This Machine Generate?
Are you able to calculate the amount of profit your business generates per tablet? If so, this calculator will be able to tell you how many hours you will have to run this tablet press to cover its investment.
It will also be able to tell you the amount of profit it will generate every hour you run this tablet press, which makes this calculator a powerful tool when deciding on which tablet press is right for you or your business.
Profit Generated Per Hour
This machine returns it's investment in hours