Perfect for R&D

Cleaning Kit

Three Different Tooling Sizes
The VICE is a revolutionary handheld tablet press that's unlike anything you have seen before. Beautifully engineered, portable, lightweight, astonishingly easy to use and a fraction of the price of larger, more cumbersome tablet pressing machines, the VICE makes it easy to produce pharmaceutical grade tablets in a wide range of shapes and sizes.
Connect with Our Team
If you have a question or would like more details on the VICE Handheld Press, please complete the form below and someone from our team will be in touch with you soon.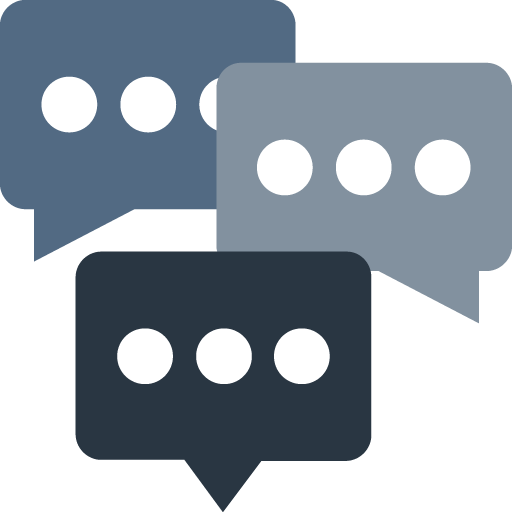 For anyone who has longed to press their own pills at home, but was put off by the prices of commercial machines, the VICE Handheld Press is a radical new concept that has just changed the rules.
In fact the VICE is a gamechanger for all sorts of applications. Whether you are a personal user who wants to formulate your own food supplements or herbal remedies, or a commercial organisation that needs to make small numbers of tablets for research and development, this innovative new tablet press has just made your life easier.
Main Benefits of the VICE Handheld Pill Press
Make your own tablets in under 2 minutes
Engineered from stainless steel and anodized aluminum for an exceptionally strong, lightweight body
Safe to use and fully compliant with GMP guidelines
Produces tablets or pellets from 2 – 22 mm
Comes with 6, 8, and 10 mm die sets
Uses the same range of dies as the TDP 5 tablet press, offering a wide choice of sizes and shapes
Custom die sets easy to order
20 kN of pressure produces pharmaceutical-grade tablets that won't break or crumble
Striking design available in a range of vibrant colors
Full cleaning kit included
Coloured VICE mixes available with all the binders you need for professional-looking, top-quality tablets
Lifetime warranty
Features
This clean-cut tablet press stands out thanks to its ease of use, low price, solid construction, light weight and sheer portability. With its sleek look, the VICE is not only attractive, but it is a seriously effective piece of equipment that makes pressing tablets or pellets easier than ever before.
The VICE comes with all the equipment needed to make tablets, including three sets of dies to press tablets of 6, 8 and 10 mm, a comprehensive cleaning kit to keep your VICE in peak condition, and easy-to-follow instructions explaining how it works. This pill press is versatile too. You can change the dies in a snip, giving you the option of making anything from tiny 2 mm diameter pellets to large 22 mm tablets. Nor does the VICE limit you to round tablets; dies are available in almost any shape you choose.
The VICE's design team knew that the key requirement by which any tablet press must be judged is the quality of the tablets it produces. This is where the VICE excels, thanks to its precision engineered threads that let you apply up to a hefty 20 kN of pressure with very little effort. No matter who you are or where you are, the VICE makes it simple to produce perfect tablets in moments.
The designers also made the VICE eminently portable, ensuring that the stainless steel and aluminium body of the tablet press is ultra strong yet light enough to carry around. And the VICE's lifetime guarantee is a sure sign that it is built to last, assuring you of many years' productive use way into the future.
Easy to maintain and clean, the VICE is a complete package that includes a dedicated cleaning kit containing brushes, lubricants and cleaning materials that make it easy to keep your press in perfect working order.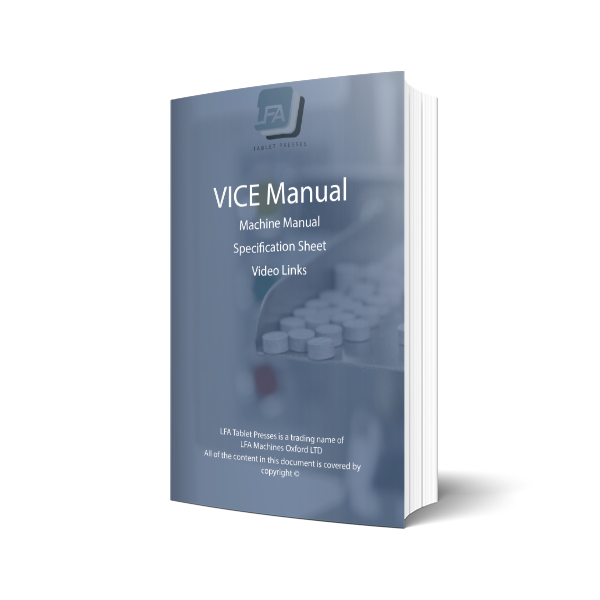 Get Information on
VICE Handheld Press
Enter your details to get the User manual, Spec Sheet and Video links for VICE Handheld Press
VICE Tablet Press in Use
One of the most striking things about the VICE is that it produces such outstanding tablets without using electricity to generate pressure. This tablet press really is exceptionally easy to use, with its high amounts of pressing power channelled effortlessly through dies that are easy to change. It is extremely versatile, too. Not only is there a tremendous range of compatible dies already available, but you can use open-source tooling to create unlimited options. Thanks to the groundbreaking VICE tablet press, creating customised tablets for any purpose you choose has never been simpler.
When using the VICE you can achieve smooth, dense, perfectly formed tablets that look and last as though they have come straight from a pharmaceutical packing line. The ability to make tablets as large as 22 mm in diameter also means that you can press a lot of material into each one, making this tablet press ideally suited to products such as calcium supplements that need plenty of volume. We also offer mixes containing all the excipients and binding materials you need to produce almost any sort of tablet.
Our View
The VICE tablet press is a genuine breakthrough in low cost, convenient tablet pressing. For the first time, an ordinary consumer can make top quality tablets quickly and easily, without investing a fortune.
Versatile, simple to use and requiring just minimal maintenance to keep it clean, the VICE is an attractive piece of equipment that represents the perfect solution for any application where cost-effective, quick and easy tablet pressing is a must.
Does this machine come with free training?
Yes, we offer free training at your local LFA office. For a list of our office addresses, see here. Training is normally completed in less than one day, but please get in touch for more information.
Where is this machine made and shipped from?
All of our machines are made by us in Taiwan, and are shipped to you from our nearest office.
We have offices in the UK, USA and Taiwan.
Because they are made by us, we are able to control quality and give you the best support possible. And because they are shipped from your local office, wait times are reduced and when possible customs clearance is avoided, ensuring you have support in your time zone in a language that is convenient to you.
Do all TDPs and the VICE take the same tooling?
It is important to know two things:
Firstly, TDP Universal Tooling came into effect in 2018. Machines brought from LFA before this time may be slightly different sizes. We always recommend checking the size of your tooling before placing your order.
Secondly, a number of companies make unofficial TDP tablet presses.
They do not always conform to the same sizes, tolerance or quality as LFA TDPs or tooling. If you bought your press from someone else other than LFA, we are not able to guarantee that our tooling will fit.
Can I get support from LFA if I face problems with making tablets?
Yes. Very easily.
We have free lifetime technical support for all machines sold by LFA.
Just contact us with your machine serial number and we would be happy to help you with any problems.

Can I order custom tooling?
Yes. You can order custom tooling here
What should we do if we don't want to use any excipients, especially binders?
Do I need a license to own this machine?
That depends on the country you are located in.
In the EU and UK no. You do not need anything to buy the press.
In the USA we have to file a piece of paperwork with the federal government when we sell the press.
We, however, do all of this paperwork for you and do not need to do anything.
The only countries that require a license, as far as we know, are Canada and Australia.
If you are located in Canada then we recommend that you contact Health Canada prior to placing your order. Details regarding the import process can be found at the following link: Importing and registering pill presses (designated devices)
The document you need to fill out and file for a purchase originating in Australia is called a B712. This can be found at: https://www.abf.gov.au/form-listing/forms/b712.pdf. If you would like to speak with one of our team about this, then please get in contact.
Is the VICE GMP approved?
It depends on your location as every country has a different set of rules to define GMP compliance. However, LFA VICE Press is an extremely simple item that is made completely out of parts that are washable. It has two main components made from aluminium and stainless steel parts. We believe that our VICE is GMP compliant under all GMP guidelines. We do however recommend checking your local regulations if you are unsure.
What is the maximum pressure I can achieve with a VICE?
The average max force a VICE can produce is 21kN. The pressure depends on the force the user is able to apply to the machine handles.
How much is too much pressure on the VICE handheld press?
If too much pressure is applied to the VICE, it will jam shut. If this happens, you will need to remove the handles from each end using an Allen key or hex key set. Then, using two large wrenches on each end, unjam the device.
How many tablets can the VICE make per minute/hour?
This will depend on the user. There are a number of things that you can do to make it as efficient as possible:
Make a tablet pre-mix with your active ingredients and all of the excipients you need. We recommend using Firmapress for your excipient since it acts as both a binder and flow agent.
We also have videos and a tablet mix calculator to help you calculate the ratio of active ingredients to excipients needed to make a tablet.
Tablet Mix Calculator | Free Tool to Help Pill Formulation
Making a Tablet Pill Mix - Making a Test Mix
Next, set up on a tray or a clean and flat surface. This will help you recover any lost powders.
You will also need a high accuracy scale to weigh your tablets.
Finally, marking off the position of the threads on the lower pin handle will allow you to make tablets that are the same size with each run.
With all of these items in place, we find that we can make approximately 2-3 tablets per minute or 120-180 per hour. This depends, on your practice, the size of the tablet and how much force you apply.
How do you clean the VICE efficiently? Are there any special products that you recommend?
The process of cleaning a VICE is fairly simple.
First, remove all of the powder from your VICE.
Next, rinse the VICE with warm water.
Finally, make sure that it is completely dry before applying oil to stop corrosion.
Here is a more detailed video on how to clean your VICE: How to Clean your VICE Handheld Tablet Pill Press | Video
The VICE press comes with a cleaner and a food grade oil. We recommend using both of these to clean and lubricate your device.
How many tablets can VICE produce before you have to replace it?
Infinite, the design of the press is incredibly robust. If you do manage to break it, contact your local LFA office.
While we cannot guarantee the machine for life, we would be happy to inspect the machine to determine if there were any manufacturing defects. Should this be the case a replacement would be considered.
How can I set the weight when using a VICE?
On the VICE there is a technique to "set" the weight. You can do this by marking the location of the lower pin, which will allow you to fill it volumetrically. To do this:
First, weigh out the amount of powder you need in a tablet.
Next, wind the lower pin all the way until it is at the lowest position.
Now, fill the die cavity with the weighed out powder.
Then, raise the lower pin until the powder is flush with the top of the die cavity and about to overflow.
Finally, mark off the position of the threads on the lower pin handle. All you will need to do is return it to the same position and fill it with a mix of the same density to make tablets of the same weight.
What is the VICE Handheld Press made of?
The VICE is made of aluminium and stainless steel. The TDP Tooling that is included with the VICE is made of S7 steel.
Can I change the 3 sets of free tooling that are included with the VICE?
Sorry, but we are not able to customize the tooling that is included with the VICE.
However, supplementary tooling can be ordered at an additional cost if required: TDP Tooling | Punch & Dies for TDP Pill Presses
Can I put my VICE in an autoclave?
Yes, the tooling is S7 steel, the body is aluminium, and the threads on the handles are both SS 304 steel. The entire device can withstand 120°C (248°F) in an autoclave for 20-30 mins.
The tablets I am making with the VICE are coming out soft and do not retain their structure, even when using excipients. They fall apart with just the slightest touch/pressure. What should I do?
The VICE exerts about 21 kN of pressure, which is more than enough to make a tablet. If the tablet falls apart, either the device needs to be screwed tighter or the formula needs to be adjusted.
When using VICE to make a tablet should I wait to let the tablet set in the press to increase its hardness?
You can, if you like, let the press sit for 5-10 mins. This is what is called dwell time. It helps sometimes, but most of the time this is far too long.
The dies have become discoloured. Is this because of corrosion?
Yes, this could be down to corrosion or due to oxidation of your product. We would highly recommend taking your tooling out of the press and cleaning it at the end of every production run.
We would also recommend polishing the tooling to keep the surfaces clean and less likely to cause picking or capping.