RTP 41 Rotary Tablet Press
Starting from
US$26,950.00
or from as little as
US$103.81
per week
Dust Extractor

Perspex Surround

Stainless Steel Contact Parts
Sophisticated and beautifully engineered, the RTP 41 is the flagship model in our tablet pressing range, offering the ultimate in safety, speed and feature set. With a 4 kw motor, 80 kN of available pressure, an optional two-colour capacity, the ability to produce tablets up to 12 mm in diameter in special shapes and with carved characters or motifs, semi-automatic lubrication, extremely fast production and all-electronic controls, this tablet press is in a class entirely of its own. Ideal for major manufacturers in the pharmaceutical, chemical and food technology industries, the RTP 41's 41cutting heads can produce in the region of 180,000 tablets an hour, making it a true mass production unit.
Connect with Our Team
If you have a question or would like more details on the RTP 41 Rotary Tablet Press, please complete the form below and someone from our team will be in touch with you soon.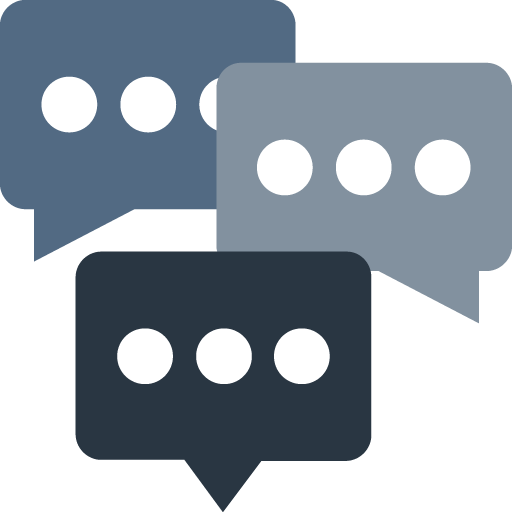 The care taken at the design stage of this pill press has been thorough and comprehensive, with everything possible done to improve speed and efficiency and reduce downtime. From its GMP compliant stainless steel manufacture, to the special refinements that reduce powder wastage and cut maintenance, the RTP 41 tablet press has been created to mass produce pharmaceutical quality tablets at a competitive unit cost and in quantities that will meet the demands of even the largest manufacturers.
Main benefits at a glance:
GMP compliant, stainless steel construction for hygiene and durability
80 kN pressure for top quality tablets
Double colour option
Carved characters or motifs
180,000 tablets an hour
Tablets up to 25 mm diameter plus special shapes
Perspex turret shield avoids cross contamination and achieves high degree of user safety that meets all applicable safety standards.
Fully adjustable speed achieved through simple electronic controls
Tablet size and depth easily adjustable
Automatic pressure overload cut out mechanism for enhanced safety
Innovative semi-automatic lubrication system cuts maintenance time, avoids wear, and avoids contamination
Powder suction unit recycles extraneous powder increasing efficiency, reducing wastage and avoiding blockages
Dies compatible with RTP 19, RTP 33, RTP 35 and RTP 37 for easy availability
Features
The 4 kW motor produces up to 80 kN of pressure, giving it the muscle to churn out industrial quantities of perfectly formed tablets up to 12 mm wide and 6 mm deep, and to emblazon them with crisply carved characters or an emblem. The RTP 41 also offers the option of adding a double layered, two-colour facility for manufacturers who are looking to produce striking tablets with a strong commercial appeal.
Management of tablet size, depth and motor speed are all achieved entirely through simple electronic controls, with comprehensive warning lights to keep the operator informed, while an automatic cut-out mechanism makes sure that the immense pressure the machine generates is applied safely. A four-sided Perspex shield completely encloses the turret, enhancing operator safety, and preventing airborne cross-contamination of the powder.
This not only saves a great deal of time, but it also cuts the risk of oil contamination, reduces heat build-up and ensures smooth functioning and reduced component wear.
Similarly, commonly needed spares such as the upper orbit, powder-filling apparatus, transmission pole and powder measure are interchangeable with the RTP 33, meaning that these replacement parts are easily available.
RTP 41 Tablet Press in Use
The RTP 41 is a serious piece of manufacturing plant that performs exactly as you would imagine, given its sophisticated, modern design and high quality construction. As impressive as it is, the headline rate of 180,000 tablets per hour is only half the story, because you also need to take into account the greatly reduced maintenance time that results from the innovative oiling system, vacuum powder recycling system and other refinements. In terms of overall productivity, this tablet press is therefore exceptionally efficient.
Despite its power and the immense speed of its production, the RTP 41 pill press is very easy to use thanks to its all-electronic controls and warning console. Everything you need to know is right in front of you, and anything you need to adjust is within arm's reach. No more fiddling around with wrenches to adjust the output, or trying to remember which screws to tighten. Just turn a dial and your adjustments are made quickly and efficiently. All of which means that there is more time to monitor the quality of the pills being produced, and to keep the machine filled with powder and running smoothly.
Technical Specifications
The RTP 41's 4 kW motor produces a maximum of 80 kN of pressure, and powers 41 sets of dies. The maximum production capacity is approximately 180,000 tablets per hour, depending on the materials being pressed. The maximum diameter of each tablet is 12 mm and the maximum thickness is 6 mm, with a depth of fill up to 15 mm. The turret speed ranges from 14-37 rpm. Overall dimensions are 1230 mm x 950 mm x 1670 mm, and the weight is 1560 kg. The RTP 41 is suitable for use with dry granular materials, and powders, but not superfine powders.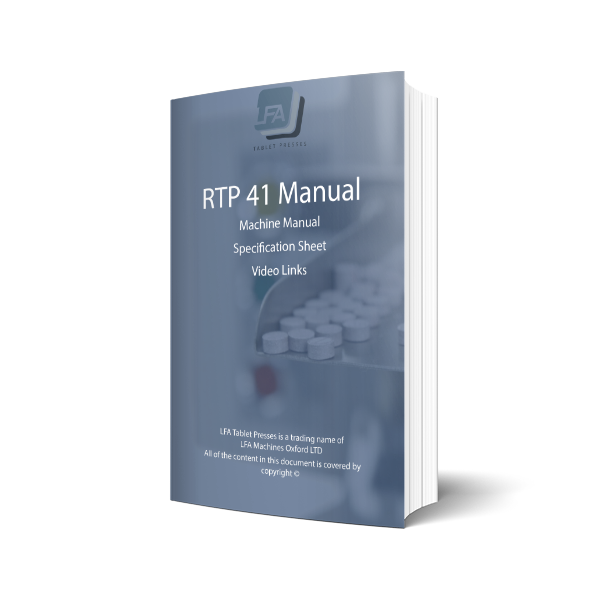 Download The RTP 41 Manual & Specification Sheet For Free
This information will help you figure out what the RTP 41 can do for your business.
Our View
It is difficult not to love the RTP 41. True, all machines have their strengths and drawbacks, and this tablet press represents the sort of significant investment that only a large scale producer could justify. But there is something exceptional about a machine that can do so much, so quickly and so well. The electronic controls, semi-automatic oiling, powder suction, two-colour option and the carved motifs: these are all features that lift the RTP 41 into a class of its own.
If you have seen our RTP 41 video you will know that this is a modern, good looking piece of equipment, full of neat lines and gleaming stainless steel. In action it lives up to its high-tech promise, producing astonishing numbers of perfect tablets with unmatched efficiency. If you want the ultimate in tablet mass production capacity, this is the machine for you. 
Specification
RTP 41 (Standard)
RTP 41 (Euro)
RTP 23 (Euro)
Number of dies
41
41
23
Tooling Spec
RTP Tooling
Euro BB Tooling
Euro D Tooling
Max Diameter of Tablet (mm)
12
13
25
Max Pressure (kN)
80
Max Pre Pressure
80
Max Fill Depth (mm)
15
Max Thickness of Tablet (mm)
6
Turret Speed (r/min)
14 – 37
Max Production Capacity Per Hour
182,040
182,040
102,000
Number of Filling Stations
2
Double Layered Tablet
On Request
Power USA
220V, 3 phase Delta Δ, 4.0 kW, 60Hz
Power UK
440V, 3 phase Delta Δ, 4.0 kW, 50Hz
Amps
32
Height (mm)
1670
Width (mm)
950
Depth (mm)
1230
Weight (kg / lbs)
1676.5 kg / 3,696.1 lbs
How Much Profit Will This Machine Generate?
Are you able to calculate the amount of profit your business generates per tablet? If so, this calculator will be able to tell you how many hours you will have to run this tablet press to cover its investment.
It will also be able to tell you the amount of profit it will generate every hour you run this tablet press, which makes this calculator a powerful tool when deciding on which tablet press is right for you or your business.
Profit Generated Per Hour
This machine returns it's investment in hours
Does this machine come with free training?
Yes, we offer free training at your local LFA office. For a list of our office addresses, see here. Training is normally completed in less than one day, but please get in touch for more information.
How quickly will the press pay for itself?
We've created a calculator on our website for most of our tablet presses. See the "profit calculator" tab on the product page and enter your profit per tablet to see how many running hours the press will pay for itself and how much profit per hour it will generate.
Can I come to one of your facilities for training with my own formula?
Yes, you can, but there are a number of requirements that we need to fulfill first.
You will need to contact our team and provide them with a copy of all of your MSDSs for all of the components of your mix.
We need to have a good understanding of your business and the challenges you are facing.
You will also need to book an appointment with the office that you would like to visit.
For more information please get in contact with the team: https://www.lfatabletpresses.com/contact
Can I get support from LFA if I face problems with making tablets?
Yes. Very easily.
We have free lifetime technical support for all machines sold by LFA.
Just contact us with your machine serial number and we would be happy to help you with any problems.

Can I order custom tooling?
Yes. You can order custom tooling here
What particle size will work on this machine?
As with any tablet press, it is good to have a particle size of around 80-60 mesh.
This would be large enough to avoid large losses and small enough to flow well through the machine. If the powder is finer than this then you are going to experience a larger level of loss.
If the particles are larger than this then it might not flow through the machine well and get caught as it is trying to enter into the die bore.
This being said every powder is very different and you will need to do tries to work out what is best for them.
What technical support and training come with this machine?
There are a number of ways we are able to support you:
Every machine comes with a full manual that is emailed to you after purchase.
There is a large range of video tutorials to teach you how to use the press.
The machine comes with lifetime technical support. You can call, Skype or email to get answers to your questions and problems.
We also offer free training at any one of our regional offices.
If after all of this you are still struggling to use your press, we are able to come to you. This is a service we charge for.
More information on this can be found here: https://www.lfatabletpresses.com/services
Can you set this machine up for an custom mg tablet weight?
Yes, the TDP and RTP range all have a weight adjustment for it.
on the TDP it is the bottom of the two cogs on the lower drift pin assembly.
Here is a link to a video showing you how to tune up the TDP 5: https://www.youtube.com/watch?v=4dTscUdRJzQ
Here is a link to a video showing you how to tune up the RTP 9 or the RTP 118: https://www.youtube.com/watch?v=YJFt5AFJ1hw
It is important to know that the exact weight of each tablet will vary from tablet to tablet.
A well-homogenized mix that has a consistent granule size should be able to achieve an accuracy of +/- 3% or less.
What should we do if we don't want to use any excipients, especially binders?
What plug does this machine come with?
We send out all machines with the local plug on and set up to run on the local power supply.
Is there a system that allows customers to check the warranty period of their machines?
In order to determine whether or not your machine is still under warranty, you will need to call or email the office the machine was purchased from, and provide the serial number.
Is the tooling for all RTP machines the same?
No, there are 3 specifications for Rotary Press Tooling and a number of different sizes that fall under them. These 3 specifications are RTP, Euro, and TSM. Under TSM and Euro tooling specifications, there are 4 common sizes: B, D, BB, and DB.
Our tooling specification guide can be found here: Tablet Press Tooling Specification Guide
What is the lifespan of the RTP tooling?
The lifetime of tooling is difficult thing to calculate. This is because it is dependent on a number of different factors.
The first thing to consider is the product that is being pressed. The softer the product, the less of a sandpaper effect it will have on the tooling. If the product is very coarse, however, then the likelihood of wear increases as it moves over the face of the upper and lower punches during compression.
The next thing that affects the life of the tooling is its shape. If the cup of the tooling is very deep, then the powder will have to move a lot further over its surface during compression. As a result, this causes more wear and shortens the life of the tooling.
The surface of the punch will also determine how long the tooling lasts. For coated tooling, the material used to coat the punches will influence the tooling's longevity. For uncoated tooling, the type of steel should be considered in relation to the tooling's lifetime.
Ultimately, it is impossible to give an exact figure without running the tooling in a production environment.
A good rule of thumb is this:
The standard life of shelf tooling from LFA should make 2-5 million tablets.
Standard S7 tooling that has been customized will make around 10m tablets.
A well designed set of customized tooling that has been coated can make up to 65m tablets.
These estimates are applicable for tooling that has been cleaned properly and used correctly in the press.