RTP 10i Rotary Tablet Press
or from as little as
$103.99
per week
Either B or D Tooling

Up to 20,400 Tablets per hour

Pre Compression Roll
The RTP 10i is a revolutionary, intelligent rotary tablet press that uses simple, touch screen digital display and control to make tablet pressing easier, more accurate and more efficient. With a fast, 2.2Kw motor and 10 sets of tooling, the RTP 10i uses EU D tooling and a two-stage pressing process to produce up to 20,400 top quality round or irregular shaped tablets an hour. Ideal for research and development or small-scale production in the medical, pharmaceutical and chemical fields, as well as food technology, ceramics and allied industries, the RTP 10i is perfectly suited to use in laboratories and research centres. The RTP 10i can alternatively be provided with in an 17 station B tooling configuration.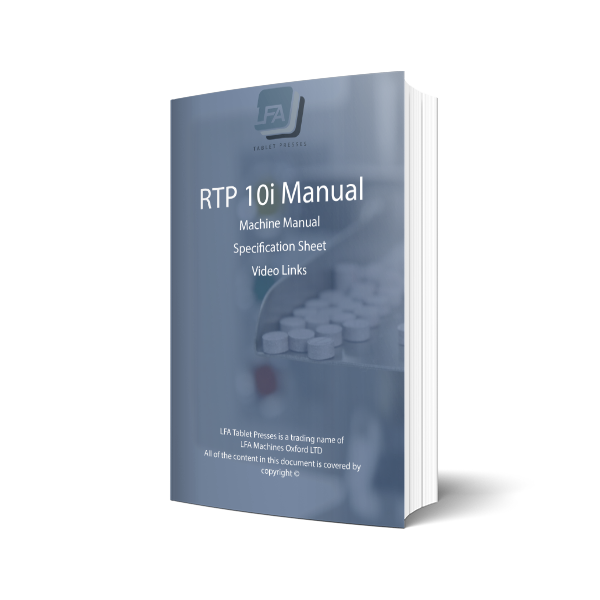 Download The RTP 10i Manual & Specification Sheet For Free
This information will help you figure out what the RTP 10i can do for your business.
Bringing the benefits of digital technology to tablet pressing, the RTP 10i is the easiest to use machine around, with full electronic control of key functions and easy access to all the data you need to produce better quality tablets faster and more efficiently.
Main benefits of the RTP 10i:
Digital, touch screen display and control for turret speed, pressure, fill depth, tablet thickness and speed, for accuracy, ease of use and efficiency
Variable frequency stepless speed control - easy to operate, safe and reliable.
GMP compliant, easily accessed Perspex turret shield for protection of user and to prevent cross-contamination.
Main drive designed and engineered for excellent stability and long service life.
Pressure overload automatic cut-out protection to avoid damage
Forced ventilation and cooling for better service life and reliability.
Fully enclosed stainless steel body, with a turret and key parts treated for a non-toxic, hygienic, corrosion resistant surface compliant with GMP requirements.
Double-pressing function with pre-pressing and main-pressing for improving tablet quality.
Lower plunger dust guard, to prolong service life.
Optional forced feeder available for accuracy and efficiency
Features
The RTP 10i is a compact, stainless steel bodied tablet press packed with advanced features that make it easier to use, safer, more cost-efficient and more effective. From the GMP compliant Perspex turret shield that keeps the user safe and the powder free from contamination to the digital display and control panel and optional force feeder, this pill press has been designed to fulfil the aims of accuracy, safety and ease of use.
The 'intelligent' in the tablet press's designation comes from the digital display that replaces the cumbersome, slow, manual adjustments required with conventional tablet presses, with a modern and simple touch screen that electronically adjusts all the machine's key parameters. Not only does this save a huge amount of time and effort, but it also makes it easy to produce tablets of a consistently high quality, by letting the operator focus all their energy on fine adjustments that achieve optimum performance. Stepless speed control further improves the operator's ability to fine-tune production, while the automatic overpressure safety cut out that avoids damage, forced ventilation and cooling, and a superbly engineered drive mechanism all help ensure years of trouble-free operation.
This pill press has been designed to be fully with GMP compliant and with operator safety very much in mind. An optional automatic safety cut out is available, and a safety cut out button is built in as standard.
Thoughtful features include a dust guard for the lower plungers, helping to avoid wear of the rail, and the turret surface and key parts being treated with a non-toxic, corrosion resistant surface.
RTP 10i Intelligent Rotary Tablet Press in Use
Simplicity and the obvious quality of this tablet press's construction both make it an absolute pleasure to use. Although the RTP 10i is not a machine intended for full-scale mass production, at up to 20,400 units an hour it still churns out tablets at a very rapid rate, and their uniformity and finish are excellent.
As you might imagine, the touch screen is a huge advance on old-fashioned controls. Digitisation was bound to catch up with tablet presses at some point, and the RTP 10i shows that it is a beneficial innovation that enhances productivity. It is clearly the way of the future, as it really does make it easier to achieve consistently high-quality results. Digital display and adjustment are more efficient, too, and a lot less wearing on the operator's mental energy. Which means that the user can concentrate on making better tablets, and get the most benefit out of the fine-tuning that the controls make possible.
The other refinements on this pill press also play their part. The automatic over-pressure cut off, and the forced ventilation and cooling help provide a comforting sense of reassurance, as well as lengthening the tablet press's life. While features such as the Perspex turret shield and optional automatic cut out make this a very safe machine to use. Despite the RTP 10i's powerful 2.2Kw motor, which generates a hefty 60Kn of pressure, even beginners can use the machine and feel that everything is under control and that there are no daunting surprises around the corner.
Technical Specifications
The RTP10i is an automatic, rotary tablet press with a pre-tabletting feature. Its 10 dies can produce between 3,000-12,000 tablets an hour, with a maximum diameter of 22mm, or 25mm for special shapes; a maximum fill depth of 17mm, and a maximum tablet thickness of 6mm.
The 2.2kW motor produces up to 60kN of pressure or 10kN for the pre-tabletting stage. The turret speed ranges between 8 – 30 r/min. The machine is available to operate on 220V.
LFA's View
Although by no means the fastest tablet press in our line up, the RTP 10i is without a doubt one of the most impressive. It is especially recommended for lab work, clinical trials, veterinary and food technology applications, but its unique features mean that it is popular with a whole range of users. We would also say that the optional force feeder is well worth investing in, as it makes it that much easier to achieve consistent results, as well as avoiding wastage of powder.
If ease of control, precision, fast production, durability, spotless hygiene, quality of output and excellent safety features are all on your shopping list, then this is the tablet press you are looking for. Large mass producers will possibly go for a machine that has more cutting heads, but research and development, medical research and other applications that need to produce a useful number of tablets quickly and easily, will find the RTP 10i a perfect fit.
Specification
RTP 10i
RTP 17i
Tooling Spec
D Tooling
B Tooling
Number of dies
10
17
Max Pressure (kN)
60
Max Pre Pressure
10
Max Diameter of Tablet
25mm / 0.98in
19mm / 0.74in
Max Fill Depth
17mm / 0.67in
Max Thickness of Tablet
6mm / 0.23in
Turret Speed (r/min)
8 – 20
Max Production Capacity Per Hour
12,000
20,400
Number of Filling Stations
1
Double Layered Tablet
N/A
Power US
220v, 3 phase, 2.2kW, 60Hz
Power UK
440v, 3 phase, 2.2kW, 50Hz
AMP's
13
Height
1680mm / 66.1in
Width
700mm / 27.5in
Depth
710mm / 30in
Weight
885kg / 1,952lbs
Is there a system that allows customers to check the warranty period of their machines?
In order to determine whether or not your machine is still under warranty you will need to call or email the office the machine was purchased from and provide the serial number.
Is the tooling for all RTP machines the same?
No, there are 3 specifications for Rotary Press Tooling and a number of different sizes that fall under them. These 3 specifications are RTP, Euro, and TSM. Under TSM and Euro tooling specifications, there are 4 common sizes: B, D, BB, and DB.
Our tooling specification guide can be found here: Tablet Press Tooling Specification Guide