Prensa Compacta para Tabletas TDP 6s
El modelo TDP 6s es una prensa de mesa monopunzón, que está basada en el popular modelo TDP 5, pero cuenta con la característica de un mecanismo mejorado, un motor más poderoso y una presión más fuerte. La TDP 6s también puede producir las tabletas más grandes de la gama TDP siendo el diámetro máximo 25 mm.
Connect with Our Team
If you have a question or would like more details on the Prensa Compacta para Tabletas TDP 6s, please complete the form below and someone from our team will be in touch with you soon.
La TDP 6s® ha sido creada para ser rápida y flexible, pudiendo funcionar ya sea con electricidad o a mano. Una ventaja en particular de esta máquina es que puede ser usada para producir cualquier cantidad de pastillas desde una sola tableta hasta un lote de 3,000 tabletas por hora. Por esta razón es una excelente solución para laboratorios, trabajos de investigación y desarrollo, o cualquier aplicación que requiriera versatilidad y facilidad de uso. Empresas que desarrollan nuevas formulas, investigadores farmacéuticos y médicos que llevan a cabo pruebas clínicas, y hospitales que producen medicamentos personalizados para pacientes, son solo unos ejemplos de las aplicaciones más usadas de la TDP 6s.
Fabricada siguiendo un estándar muy elevado y con necesidades de mantenimiento sencillas, la TDP 6s es una máquina robusta y fiable, con la que se puede contar en cualquier situación. También es compatible con una gran gama de troqueles, pudiendo ser usada para producir tabletas de casi cualquier tamaño y forma. Gracias a su impresionante presión máxima, la TDP 6s produce tabletas de una calidad excelente, probando así que se puede tener facilidad de uso y flexibilidad sin sacrificar calidad de ninguna manera.
Ventajas principales de la TDP 6
Presión máxima excepcional para obtener tabletas sólidas y duraderas
Poderoso motor
Correas gemelas
Rápida y fiable
Producción flexible
Funciona con electricidad o a mano
Compatible con una gran cantidad de materias primas
Bajo mantenimiento
Bajo consumo
Funciona con una cantidad mínima de 200 g de materia prima
Prensa tabletas de cualquier tipo de forma
Tabletas con diámetro, grosor y dureza ajustable
Capaz de producir tabletas grandes de 25 mm
Opción para estampar diseños sobre la tableta
Características
La TDP 6s cuenta con un poderoso motor de 1.1 kW que impulsa un sistema de correas gemelas que crean una impresionante presión de 60 kN. Esto asegura que sea cual sea la tableta que necesite fabricar, la TDP 6s cumplirá con el trabajo con presión de sobra. Al ser capaz de comprimir tabletas de hasta 25 mm de diámetro, la TDP 6s es la máquina perfecta para crear suplementos herbales o minerales, ambos de los cuales requieren una tableta grande que toma mucho músculo para comprimir.
El mecanismo de profundidad de llenado de la TDP 6s es ajustable con un máximo de profundidad de 16 mm que produce tabletas de hasta 6 mm de grosor. Es muy simple cambiar el juego de troqueles de la TDP 6s, y con numerosos troqueles disponibles puede producir tabletas en muchísimas formas tanto regulares como irregulares. El grosor de sus tabletas también puede ser personalizado, permitiendo que tome ventaja de todo el potencial que le da la gran presión de 60 kN. Además puede personalizar la superficie del comprimido usando un troquel que tenga un grabado. Esto es particularmente útil para usuarios que llevan a cabo pruebas clínicas u otro tipo de investigaciones, ya que permite producir lotes pequeños de píldoras fácilmente identificables.
La TDP 6s puede ser usada con la mayoría de los materiales granulados y con muchos polvos. Pero no está hecha para ser usada con materiales excesivamente húmedos o grandes cantidades de polvo muy fino.
Una de las mejores características del modelo TDP 6s es su flexibilidad. Se pueden comprimir unas pocas tabletas a mano mientras se experimenta con distintas formulas. Luego, cuando encuentre la formula que está buscando y quiera acelerar la producción a una prueba a gran escala, encienda el motor del TDP 6s y producirá lotes de hasta 3,000 tabletas por hora.
Con un tamaño pequeño, un peso relativamente ligero para su clase, una tolva fácil de usar y un consumo de energía eficiente, el modelo TDP 6s es una elección sobresaliente para una amplia gama de aplicaciones en casi cualquier industria.
Especificaciones Técnicas
La TDP 6s mide 880 mm x 500 mm x 890 mm, y pesa 160 kg. Su motor opera a un poder máximo de 1.2 kW y puede funcionar con un suministro eléctrico de 110 V o 200 V.
Prensa de Tabletas TDP 6s en Uso
La TDP 6s es una prensa de tabletas excepcionalmente poderosa que produce tabletas sólidas y duraderas de casi cualquier material seco y granulado. Gracias a su construcción sólida y diseño robusto es una máquina fiable que se ha ganado un lugar en numerosos laboratorios e institutos de investigación, donde ha sido apreciada por su flexibilidad. Hay muy pocas máquinas, si es que hay alguna, que puedan satisfacer perfectamente las necesidades de este tipo de usuarios, ya que es pequeña, rápida, fácil de reubicar, extremadamente flexible en sus requerimientos de producción y alimentación y fiable.
Un elemento clave de su flexibilidad es la opción manual del TDP 6s. Después de llenar la tolva, puede producir una sola tableta, o un puñado de tabletas, simplemente con darle la vuelta al volante. Tiene la capacidad de funcionar con solo 200 g de materia prima, por lo que es muy eficiente para las primeras fases de crear y refinar una formula, sin tener que mezclar (y potencialmente desperdiciar) grandes cantidades de material. Luego, cuando usted necesite producir grandes cantidades, puede enchufar la TDP 6s a la electricidad, y ver como produce miles de tabletas.
Se puede ajustar la profundidad de llenado y la densidad de las tabletas, y cambiar el troquel en la TDP 6s en solo unos minutos al apretar y aflojar unos pocos pernos y tuercas.
Además es una máquina muy fácil de mantener, con solo una lubricación básica y una inspección dos veces al mes para mantenerla funcionando sin problemas. El diseño robusto del modelo TDP 6s asegura que los problemas de operación sean raros.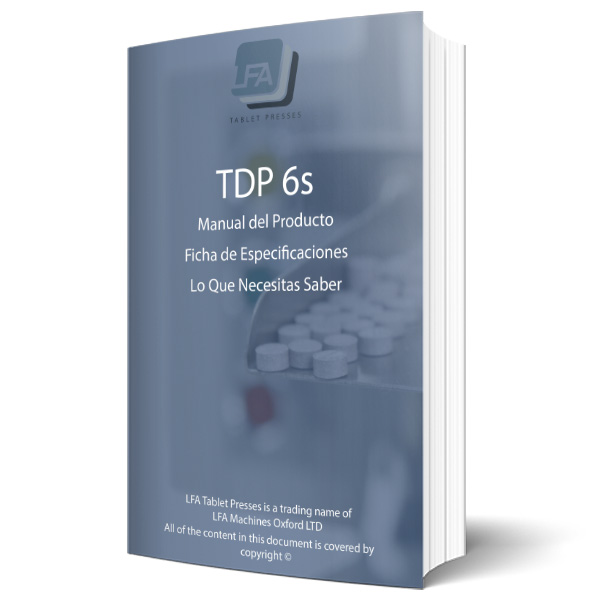 Descubre Lo Que La TDP 6s Puede Hacer Por Ti.
Obtén el Manual Ahora. Empieza Hoy Gratis.
Nuestro Punto de Vista
Al ser una versión más potente de la popular TDP 5, no es sorprendente que la TDP 6s sea una prensa de tabletas completa que trabaja bien y es fácil de usar. Como ofrece más presión que su compañera de serie más pequeña y siendo capaz de comprimir tabletas más grandes, la TDP 6s amplía la aplicación de la exitosa TDP 5 y aumenta la gama de comprimidos que usted puede producir.
| Nombre | Valor |
| --- | --- |
| Producto | TDP 6s |
| Número de Troqueles | 1 |
| Presión Máxima (kN) | 60 |
| Diámetro Máximo de Tableta (mm) | 25 |
| Profundidad de Llenado Máxima (mm) | 16 |
| Grosor Máximo de Tableta (mm) | 6 |
| Capacidad de Producción Máxima Por Hora | 3 000 |
| Número de Estaciones de Llenado | 1 |
| Tableta de Doble Revestimiento | No |
| Motor (kW) | 0.55 |
| Número de Fases | 1 |
| Amperios | 13 |
| Voltios | 240 V (110 V on request) |
| Altura (mm) | 880 |
| Ancho (mm) | 500 |
| Fondo (mm) | 890 |
| Peso (kg) | 150 |
Escribir Su propia reseña
How Much Profit Will This Machine Generate?
Are you able to calculate the amount of profit your business generates per tablet? If so, this calculator will be able to tell you how many hours you will have to run this tablet press to cover its investment.
It will also be able to tell you the amount of profit it will generate every hour you run this tablet press, which makes this calculator a powerful tool when deciding on which tablet press is right for you or your business.
Profit Generated Per Hour
This machine returns it's investment in hours