Prensa Compacta para Tabletas TDP 5
El modelo TDP 5 es una tableteadora de mesa versátil y de muy fácil mantenimiento, la cual ofrece impresionantes niveles de velocidad, eficiencia y flexibilidad. Al tener la capacidad de funcionar ya sea por medio de electricidad o manualmente, esta máquina es la solución perfecta para cualquier persona que necesita una tableteadora de alta calidad para un lote de producción pequeño, lo cual la hace idealmente apropiada para la investigación y desarrollo o aplicaciones similares.
Fill out your details and our team will provide you with a full quote as soon as possible.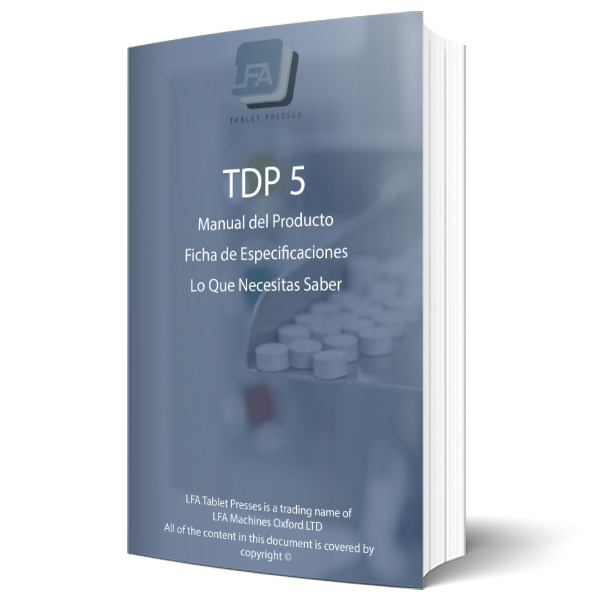 Descubre Lo Que La TDP 5 Puede Hacer Por Ti.
Obtén el Manual Ahora. Empieza Hoy Gratis.
Si usted está buscando una tableteadora para ayudarle a desarrollar nuevas píldoras, o para poner a prueba conceptos antes de enviarlos a producción, la habilidad para la TDP 5 de producir una amplia gama de tamaños de tabletas en pequeñas cantidades significa que es definitivamente la máquina para usted. Diseñada para ajustarse a las necesidades de trabajo de laboratorio y desarrollo, en lugar de la fabricación a gran escala, la TDP 5 sin embargo es capaz de producir cualquier cantidad, desde unas pocas tabletas hasta una producción pequeña de hasta 5,000 tabletas en una hora.
El atractivo de esta tableteadora recae en su versatilidad, combinada con una fuerte cantidad de características y su fabricación la alta calidad. Lo último mencionado asegura una excelente dependibilidad. Por todas estas razones, la TDP 5 es una elección popular para ser usada en institutos de investigación, laboratorios, aplicaciones de tecnología alimentaria, desarrollo farmacéutico, plantas químicas y hospitales, o cualquier lugar donde la flexibilidad, facilidad de uso y velocidad son de lo más importante.
Ventajas Principales de la Prensa de Tabletas TDP 5:
Muy ligera para su clase
Diseño compacto
Rápida y fiable
Producción versátil
Funcionamiento eléctrico o manual
Compatibilidad con una gran cantidad de materias primas
Bajo mantenimiento
Bajo consumo
Funciona con una cantidad mínima de 200 g de materia prima
Prensa tabletas de cualquier tipo de forma
Tabletas con diámetro, grosor y dureza ajustable
Opción para estampar diseños sobre la tableta
Adaptable para laminado móvil o continuo
Características
La TDP 5 es una tableteadora de un solo golpe con una presión máxima de 50 Kn. Está diseñada para ser montada en una mesa de trabajo, pero puede ser rápidamente desmontada y reubicada. La máquina ofrece un fondo ajustable de llenado con un hondo máximo de 18 mm, y puede producir tabletas de hasta 20 mm de diámetro y 6 mm de grosor. La TDP 5 no lo restringe a usted solo a tabletas de formas regulares. Simplemente al cambiar el molde en la máquina usted puede producir tabletas de casi cualquier forma que elija. También usted puede ajustar la densidad de la tableta producida, y la máquina le da la opción para estampar diseños sobre la superficie de la tableta, ya sea para darle un acabado atractivo o para propósitos de identificación. Dado que la TDP 5 es muy popular para aplicaciones de investigación y desarrollo, muchos usuarios nos han hecho saber que esta es una característica muy útil, ya que permite que pequeñas cantidad de tabletas que contienen una formulación diferente pueden ser producidas para pruebas clínicas.
Esta tableteadora es compatible con la mayoría de los materiales granulados o en polvo, pero no está intencionada para ser utilizada con materiales demasiado húmedos o polvos excesivamente finos.
Diseñada con la facilidad de uso en mente, la TDP 5 es una máquina altamente práctica que puede ser utilizada ya sea con energía eléctrica o manualmente. En modo manual, la tableteadora es operada simplemente girando la rueda de mano. Combinada con diseño pequeño y poco peso para ser una tableteadora con este tipo de especificaciones, esta flexibilidad hace que la TDP 5 sea más versátil y transportable en comparación con otras máquinas que ofrecen un desempeño similar.
Especificaciones Técnicas
La tableteadora TDP 5 tiene medidas de 700 mm x 400 mm x 800 mm, y pesa 125 kgs. Tiene una velocidad de torreta de 1,400 rpm cuando está funcionando con electricidad, y su motor opera a un poder máximo de 0.75 kW para uso de una sola fase, y 0.55 kW para uso de tres fases. La máquina puede funcionar con energía provista de 110 v o 200 v.
Tableteadora TDP 5 en Uso
Esta tableteadora es increíblemente fácil de usar, y a pesar de su pequeño tamaño ofrece un número de ventajas que la distinguen en comparación con máquinas similares.
Para hacer funcionar la tableteadora a mano, usted simplemente coloque la materia prima en el contenedor con forma de cono, luego tome la rueda y gírela suavemente. Luego aparecerán sus tabletas recién hechas, listas para ser embotelladas. Es un proceso simple el cual cualquier persona puede aprenderlo rápidamente. Si usted está fabricando solo unas pocas tabletas, esta simplicidad en realidad cumple con su cometido, y es la característica clave de la máquina. Alternativamente, si usted necesita producir un lote más gran de tabletas, solo conecte su máquina a la corriente y la misma operará rápida y suavemente con energía eléctrica.
El desarrollo y las pruebas de píldoras comúnmente requieren la creación de tabletas que contienen formulaciones similares pero ligeramente diferentes. La TDP 5 incluye varias características que la hacen especialmente apropiada para poder obtener este resultado.
Primeramente, es una tableteadora altamente eficiente, que por su bajo consumo le ayuda a lograr más pastillas de una cantidad fija de materias primas. En segundo, una ventaja particular de la TDP 5 es que puede ser operada usando una cantidad mínima de solo 200 grs de materia. Esto es perfecto para trabajos de investigación y desarrollo, donde usted pudiera solo desea fabricar unas pocas tabletas para propósitos de pruebas iniciales. Además, ya cuando usted haya identificado las formulaciones prometedoras, usted puede usar el TDP 5 para producir lotes grandes para así poder ser distribuidos para pruebas a gran escala.
En tercero, la TDP 5 le permite salvaguardar la eficacia del proceso de pruebas, al asegurar que las tabletas que usted produce puedan ser fácilmente identificadas. Esto es importante para asegurar que la formulación correcta es proporcionada al sujeto correcto. La TDP 5 logra este reto gracias a la facilidad con la cual usted puede cambiar el tamaño y forma de las tabletas que produce. Mientras usted cuente con un modo para la tableta que desea fabricar, usted puede cambiar el diseño rápidamente retirando la tolva y desatornillando el mecanismo de alimentación.
También puede ajustar rápidamente la densidad y peso de las tabletas que usted produce con la TDP 5, solo al desatornillar una tuerca en la vara conectora y ajustando la presión.
El mantenimiento de la TDP 5 también es poco demandante, requiere un poco más de dos inspecciones al mes, y el aceitado y engrasado de las partes movibles. La máquina ha sido diseñada para lograr que estas tareas sean lo más sencillas posibles.
Nuestro Punto de Vista
La TDP 5 ofrece una excelente relación calidad-precio y una versatilidad incomparable. Es de fácil mantenimiento y cuenta con la opción de crear pequeños lotes de tabletas para hacer que esta sea una máquina conveniente para usar. Además tiene la capacidad de funcionar con corriente eléctrica y producir grandes lotes de 5,000 tabletas por hora de manera efectiva. Esto le da dos máquinas en una, por eso no es sorprendente que la TDP 5 sea una de las máquinas más populares de su clase.
| Nombre | Valor |
| --- | --- |
| Producto | TDP 5 |
| Número de troqueles | 1 |
| Presión máxima (kN) | 50 |
| Diámetro máximo de tableta (mm) | 8 |
| Profundidad máxima de llenado (mm) | 18 |
| Grosor máximo de tableta (mm) | 6 |
| Capacidad máxima de producción por hora | 5400 |
| Número de estaciones de llenado | 1 |
| Tableta doble capa | No |
| Motor (kW) | 0,55 |
| Número de fases | 1 |
| AMP | 5.7 |
| Voltios | 240v (110v bajo pedido) |
| Altura (mm) | 800 |
| Anchura (mm) | 400 |
| Profundidad (mm) | 700 |
| Peso (kg) | 132 |
Escribir Su propia reseña
How Much Profit Will This Machine Generate?
Are you able to calculate the amount of profit your business generates per tablet? If so, this calculator will be able to tell you how many hours you will have to run this tablet press to cover its investment.
It will also be able to tell you the amount of profit it will generate every hour you run this tablet press, which makes this calculator a powerful tool when deciding on which tablet press is right for you or your business.
Profit Generated Per Hour
This machine returns it's investment in hours