TDP 5 Desktop Tablettepresse
Die TDP 5 ist eine vielseitige und einfache Desktop Tablettenpresse, die beeindruckend in Punkto Geschwindigkeit, Effizienz und Flexibilität ist. Sie kann entweder über Strom oder aber auch durch manuelle Leistung laufen. Diese Maschine ist eine ideale Lösung für alle, die eine qualitativ hochwertige Tablettenpresse für Kleinserien und Probeläufe benötigen, sie ist ideal für Forschung, Entwicklung oder ähnlichen Anwendungen.
Fill out your details and our team will provide you with a full quote as soon as possible.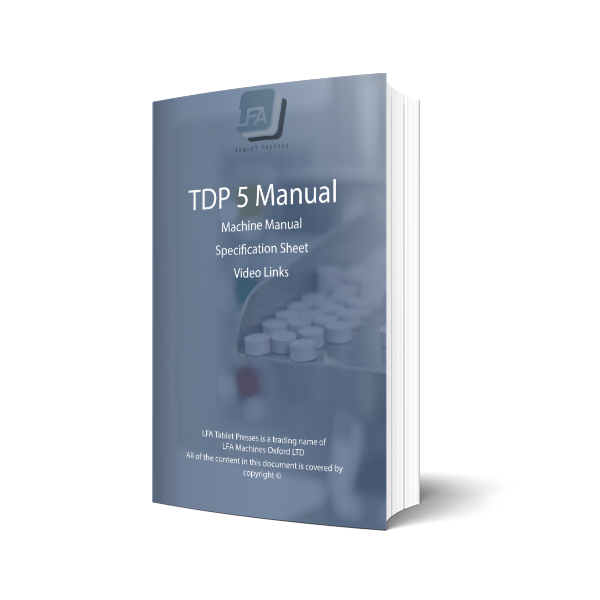 Mehr Information über TDP 5 Desktop Tablette Presse.
Geben Sie ihre Kontaktdaten ein um das Benutzermanual, das Datenblatt und die Video Links für TDP 5 Desktop Tablette Presse zu bekommen.
Wenn Sie eine Tablettenpresse, die Ihnen hilft neue Tabletten zu entwickeln, oder Konzepte zu testen, bevor sie in Serie gehen, suchen, dann ist die TDP 5 mit ihrer breiten Palette an Tablettengrößen die in kleinen Mengen produziert werden können auf jeden Fall die richtige Maschine für Sie. Hergestellt um den ganzen Weg abzudecken, von der Kleinserie bis zu 5.000 Tabletten pro Stunde, passt sie ideal zu den Bedürfnissen von Labor- und Entwicklungsarbeit.
Der Reiz dieser Tablettenpresse liegt in ihrer Vielseitigkeit, kombiniert mit einem starken Funktionsumfang und der hohen Qualität ihrer Herstellung. Letzteres sorgt für eine hervorragende Zuverlässigkeit. Aus all diesen Gründen ist die TDP 5 eine beliebte Wahl für den Einsatz in Forschungseinrichtungen, Laboratorien, Lebensmitteltechnologie-Anwendungen, pharmazeutischen Entwicklungen, Chemieanlagen, Krankenhäusern oder jedem beliebigen Ort, wo Flexibilität, Benutzerfreundlichkeit und Geschwindigkeit an erster Stelle stehen.
Die Hauptvorteile der TDP 5 Tablettenpresse:
Leichtgewicht für ihre Klasse
Kompakte Abmessungen
Schnell und zuverlässig
Flexible Ausgabe
Elektrisch oder manuell angetriebenen
Breite Rohstoff Kompatibilität
Geringer Wartungsaufwand
Geringer Verbrauch
Kompatibel mit 200g Mindestmenge von Rohstoffen
Presst Tabletten jeglicher Form
Anpassbare Tabletten Durchmesser, Tiefe und Härte
Option Designs auf die Tabletten zu stempeln
Geeignet für Motive oder Endlosfolie
Eigenschaften
Die TDP 5 ist eine Single Punch Tablettenpresse mit einem maximalen Druck von 50kN. Sie ist so konzipiert, dass sie auf einer Werkbank montiert werden kann aber leicht um montiert und versetzt werden kann. Die Maschine verfügt über eine einstellbare Fülltiefe mit einer maximalen Tiefe von 18 mm und kann Tabletten bis zu 20 mm im Durchmesser und 6 mm Dicke produzieren. Die TDP 5 beschränkt Sie nicht auf regelmäßig geformte Tabletten. Einfach durch den Austausch der Matrize können Sie Tabletten von fast jeder Form produzieren. Sie können auch die Dichte der erzeugten Tablette einzustellen, und die Maschine gibt Ihnen die Möglichkeit, Designs auf die Oberfläche der Tabletten zu stanzen, entweder eine attraktive Oberfläche oder zum Zwecke der Identifizierung. Aufgrund der Popularität der TDP 5 für Forschungs- und Entwicklungsanwendungen, berichten viele Anwender, dass es eine hilfreiche Funktion ist, dass kleine Mengen von Tabletten in jeweils einer anderen Formulierung für klinische Studien hergestellt werden können.
Diese Tablettenpresse ist kompatibel mit den meisten granulierten oder pulverförmigen Materialien, aber es ist nicht für die Verwendung mit übermäßig feuchten Materialien oder sehr feinem Pulver geeignet.
Entworfen mit dem Blick auf Komfort, ist die TDP 5 eine sehr praktische Maschine, die entweder elektrisch angetrieben oder im manuellen Modus verwendet werden kann. Im manuellen Modus wird die Tablettenpresse einfach durch ein Kurbelrad angetrieben. In Kombination mit dem geringen Platzbedarf und dem niedrigen Gewicht für eine Tablettenpresse dieser Spezifikation macht ihre Flexibilität die TDP 5 vielseitiger und beweglicher als andere Maschinen vergleichbarer Leistung.
Technische Spezifikationen
Die Abmessungen der TDP 5 Tablettenpresse sind 700 mm x 400 mm x 800 mm und sie wiegt 125 kg. Sie hat eine Drehzahl von 1.400 U/min wenn sie mit Strom angetrieben wird. Der Motor läuft mit einer maximalen Leistung von 0,75 kW im einphasigen Betrieb und 0,55 kW im dreiphasigen Betrieb. Die Maschine kann entweder mit 110V oder 220V Netzstrom versorgt werden.
Die TDP 5 Tablettenpresse im Einsatz
Diese Tablettenpresse ist besonders einfach zu bedienen, und trotz der geringen Größe bietet sie eine Reihe von Vorteilen, die sie von vergleichbaren Maschinen unterscheiden.
Um die Tablettenpresse mit der Hand zu betreiben führen Sie einfach die Rohstoffe in den kegelförmigen Behälter, dann fassen Sie das Rad und drehen es ganz sanft. Ihre neu hergestellten Tabletten werden dann erscheinen, und sind bereit in Flaschen abgefüllt zu werden. Es ist ein einfacher Prozess, der jeder schnell erlernen kann. Schon nach der Herstellung weniger Tabletten wissen Sie wie es funktioniert. Das ist ein wesentliches Merkmal dieser Maschine. Alternativ, wenn Sie eine größere Charge von Tabletten produzieren müssen, schließen Sie Ihre Maschine einfach an den Strom an und sie wird sofort und reibungslos laufen.
Die Entwicklung und Erprobung von Tabletten erfordert häufig die Herstellung von Tabletten, die ähnlich, aber eine etwas andere Formulierung besitzen. Die TDP 5 hat mehrere Funktionen, die sie besonders geeignet für diese Rolle macht.
Zum einen ist sie eine hocheffiziente Tablettenpresse mit niedrigem Verbrauch, der Ihnen dabei hilft, mehr Tabletten aus einer gewissen Rohstoffmenge herzustellen. Zweitens ist ein besonderer Vorteil der TDP 5, dass sie mit einer Mindestmenge von nur 200 g Materials betrieben werden kann. Dies ist ideal für Forschungs- oder Entwicklungsarbeit, wo Sie nur ein paar Tabletten für die ersten Testzwecke pressen möchten. Später, wenn Sie vielversprechende Formulierungen identifiziert haben, können Sie die TDP 5 für größere Chargen durchlaufen lassen.
Drittens kann die TDP 5 die Wirksamkeit des Testprozesses gewährleisten, indem sichergestellt wird, dass die produzierten Tabletten leicht zu identifiziert sind. Dies ist wichtig, um sicherzustellen, dass später auch die richtige Formulierung benutzt wird. Die TDP 5 erfüllt diese Herausforderung dank der Leichtigkeit, mit der man die Form, Größe oder das Design der Tabletten die Sie pressen ändern kann. Solange Sie eine Matrize für die Tablette haben die Sie produzieren möchten, können Sie dieses Design schnell durch das entfernen des Trichters und abschrauben des Einzugsmechanismus ändern.
Sie können auch schnell die Dichte und das Gewicht der Tabletten anpassen, die Sie mit der TDP 5 produzieren. Einfach durch Abschrauben eine Mutter auf der Pleuelstange und des Einstellen des Drucks.
Die Wartung der TDP 5 ist anspruchslos, erfordert wenig mehr als eine zweimal monatliche Inspektion und das Einölen und Einfetten der wichtigsten beweglichen Teile. Die Maschine wurde entwickelt um diesen Vorgang so einfach wie möglich zu machen.
Unsere Ansicht
Die TDP 5 besitzt ein exzellentes Preis-Leistungs-Verhältnis und bietet unübertroffene Vielseitigkeit. Die einfache Wartung und die Möglichkeit der Herstellung von kleinen Chargen mit der Hand, machen diese Maschine einmalig, während die Fähigkeit sie mit elektrische Energie laufen zu lassen und größere Chargen von 5.000 Tabletten pro Stunde zu produzieren aus einer, eigentlich zwei Maschinen macht. Es ist nicht verwunderlich, dass die TDP 5 eine der beliebtesten Maschinen in ihrer Klasse ist.
| Name | Wert |
| --- | --- |
| Produkt | TDP 5 |
| Anzahl der Matrizen | 1 |
| Max Druck (kN) | 50 |
| Max Durchmesser der Tabletten (mm) | 16 (22 wenn manuell benutzt) |
| Max Fülltiefe (mm) | 18 |
| Max Dicke der Tabletten (mm) | 8 |
| Max Produktions Kapazität pro Stunde | 5.400 |
| Anzahl der Füllstationen | 1 |
| Doppelschichttablette | Nein |
| Motor (kW) | 0,75 |
| Anzahl der Phasen | 1 |
| Ampere | 5.7 |
| Volt | 240V (auf Wunsch auch 110V) |
| Höhe (mm) | 800 |
| Breite (mm) | 400 |
| Tiefe (mm) | 700 |
| Gewicht (kg) | 132 |
Schreiben Sie eine Bewertung
How Much Profit Will This Machine Generate?
Are you able to calculate the amount of profit your business generates per tablet? If so, this calculator will be able to tell you how many hours you will have to run this tablet press to cover its investment.
It will also be able to tell you the amount of profit it will generate every hour you run this tablet press, which makes this calculator a powerful tool when deciding on which tablet press is right for you or your business.
Profit Generated Per Hour
This machine returns it's investment in hours