Prensa Compacta para Tabletas TDP 0
Comprimidos De Hasta 10mm De Diámetro

Peso Ligero

Diseño Ergonómico
La prensa para tabletas TDP 0 es una prensa manual muy avanzada que es capaz de producir comprimidos redondos de hasta 10 mm de diámetro y 6 mm de grosor sin necesidad de electricidad. Gracias a su tamaño compacto, ligereza y uso manual, la TDP 0 es muy popular para trabajos que requieren portabilidad y sencillez, por ejemplo trabajando in situ.
Fill out your details and our team will provide you with a full quote as soon as possible.
Connect with Our Team
If you have a question or would like more details on the Prensa Compacta para Tabletas TDP 0, please complete the form below and someone from our team will be in touch with you soon.
La TDP 0 tiene troqueles intercambiables y una presión de 3.1 kN. Con ella podrá producir tabletas de alta calidad para uso en universidades, hospitales, laboratorios e instalaciones de investigación de las industrias farmacéutica, química y alimentaria. También es perfecta para quien necesite elaborar una pequeña cantidad de tabletas, o para fabricar pastillas específicas.
Siendo fácil de mantener y extremadamente eficiente, ya que no usa electricidad, la TDP 0 es una opción rápida y flexible para producir tabletas en pequeñas cantidades.
Sus principales ventajas de un vistazo:
Pequeña y ligera, es mucho más portátil que las prensas para tabletas con motor
Su avanzado diseño permite producir tabletas de alta calidad sin electricidad
Tabletas redondas de hasta 10mm de diámetro
Fácil de usar y mantener
Troqueles intercambiables
Sin gasto operacional
Una máquina fiable y bien diseñada para una gran variedad de aplicaciones
Características
Las características más destacadas de la TDP 0 son su ligereza, tamaño compacto, fácil portabilidad y diseño avanzado, que permiten producir tabletas de buena calidad sin necesidad de acceso a la electricidad. Funciona así por un mecanismo eficiente que convierte la potencia manual en presión. La TDP 0 es la prensa para tabletas perfecta para cualquier aplicación que requiera una solución de tableteado in situ sencilla pero eficaz a un bajo coste.
La TDP 0 es altamente rentable; el único gasto que necesita es una lubricación ocasional. Sin embargo, se puede utilizar con una gran variedad de troqueles y produce comprimidos bien compactos de alta calidad.
La prensa para tabletas TDP 0 en uso
Si no ha usado la TDP 0, a lo mejor piensa que requerirá un gran esfuerzo para hacerla funcionar correctamente pero esto no podría estar más alejado de la realidad. Cuando haya instalado el troquel y llenado la tolva con polvo, solo tiene que girar la manivela. Con un mínimo esfuerzo producirá tabletas de alta calidad. Podrá elaborar fácilmente unas veinte tabletas por minuto y, con un poco de práctica, unas cuarenta.
Si quiere ajustar el grosor o dureza de la tableta, puede configurarlos con solo un par de movimientos.
Y eso es todo. La máquina pesa unos 24 kg, y es lo suficientemente pequeña y compacta como para poder levantarla sin dificultad. Comparado con los cientos de kilos que pesan las máquinas comerciales más grandes, la TDP 0 es una solución realmente ligera. Puede desplazarla siempre que lo necesite por un hospital, laboratorio o facultad universitaria según sea necesario.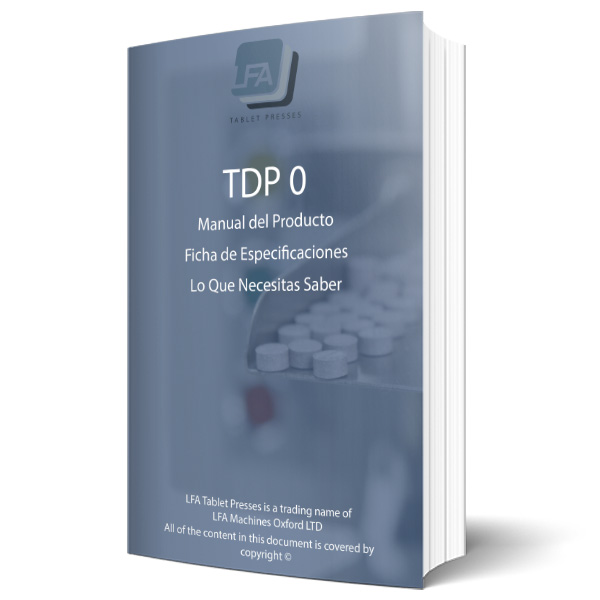 Descubre Lo Que La TDP 0 Puede Hacer Por Ti.
Obtén el Manual Ahora.
Nuestro Punto de Vista
La TDP 0 es una ingeniosa obra de ingeniería que hace excepcionalmente fácil la fabricación de tabletas a un coste bajo, y en casi cualquier lugar en el que haya una superficie de trabajo plana. El diseño es no solo compacto y almacenable, también es muy efectivo cuando está en uso. La TDP 0 es fiable, fácil de mantener y sorprendentemente eficiente a la hora de convertir energía manual en presión para los comprimidos. Esta es la prensa para tabletas ideal para producciones a pequeña escala donde el coste y el espacio asociado a máquinas más grandes no puede ser justificado. Aun así es capaz de producir tabletas excelentes, sólidas y compactas.
| Nombre | Valor |
| --- | --- |
| Número de troqueles | 1 |
| Capacidad de producción | 30-50/min |
| Diámetro Máximo de Tableta | 10 mm |
| Grosor de tableta | 2-6 mm |
| Presión máx. | 3.1 kN |
| Número de estaciones de llenado | 1 |
| Tableta doble capa | No |
| Peso | 25.4 kg |
| Altura | 51 cm |
| Ancho | 30 cm |
| Fondo | 22 cm |
Escribir Su propia reseña
How Much Profit Will This Machine Generate?
Are you able to calculate the amount of profit your business generates per tablet? If so, this calculator will be able to tell you how many hours you will have to run this tablet press to cover its investment.
It will also be able to tell you the amount of profit it will generate every hour you run this tablet press, which makes this calculator a powerful tool when deciding on which tablet press is right for you or your business.
Profit Generated Per Hour
This machine returns it's investment in hours