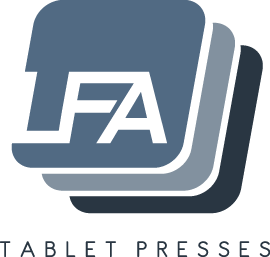 Tablet Press Specialists
Fast Shipping
We have locations all across the globe so we can ship your order to you as quickly as possible.
Money Back Guarantee
We back you up with a warranty to take all of the risk out of purchasing a tablet press.
Helping You With Your Project
We've got a team of tableting experts ready to help you with any problems that can come up with your project
Free Training & Resources
Find our video and article section for tutorials and how-tos, or come to our facility for free training on your Tablet Press.
Desktop Tablet Presses
Over the last 10 years, the goal of LFA has been to provide the resources necessary to get your tableting project moving forward. Our Desktop Tablet Press range is incredibly popular among small businesses and entrepreneurs because of the low costs and ability to produce up to 5,000 tablets an hour. These machines pay for themselves very quickly for those reasons. Our TDP range is also very popular among R&D (Research and Development) departments and universities due to the low quantity of ingredients needed to run the machine, low running costs and the ability to change tooling very quickly which makes R&D very easy.
If you have an idea that you think could have some traction behind it, but don't have the time to learn how to use a tablet press, rest assured. Every purchase on any LFA machinery comes with free training at LFA and within just a few hours you'll know everything you will need to know. Training can be done at an LFA facility or over video chat. We also have a video and article section which has helped some of our customers go from not knowing where to get started, to setting up and running successful businesses such as Oxford Vitality and Bite.
Rotary Tablet Presses
While Desktop Tablet Presses like the TDP 5 are capable of doing 5,000 tablets per hour, they are not designed to do this for prolonged periods of time. Rotary Tablet Presses, however, are designed for incredible output and efficiency in large batches. These machines are capable of producing 16,000 - 240,000 tablets per hour depending on your budget and are designed to keep downtime low so that you can have your machine running and maximise your profits.
We offer unlimited operator training and support for life. If you do run into a problem with your machine, simply pick up the phone and one of our experts will help you to resolve the issue, and suggest a solution to get production running again.
Excipients
Over the years by far the biggest problem faced by our customers has been getting their tablet mix correct. When you are just starting out it can often take weeks or months to learn and test different excipients and it's very expensive to do this. We saw too many amazing projects fail for making this mistake which is why we created Firmapress, an all-in-one tableting mix where you simply apply your active ingredient and know for certain that it will work. This way you can start developing your formula and taking orders as soon as you get your machine, generating essential cash flow and progressing your project very quickly.
Although Firmapress works with the majority of products, some customers prefer to create their own excipient formulations. If you would prefer to do this we can support you. We offer excipients in bulk quantities and can provide you with a competitive quote. More details of this are on the excipients pages.
Powder Mixers
Getting the right blend of ingredients is crucial in creating the perfect tablet. That is why we supply different solutions for mixing formulations. Developed by LFA, the VH mixer range is more competitively priced and easier to use than other powder mixers and can help keep your production going.
By far the greatest problem with R&D used to be cost. It would cost thousands to get your ideas into the real world with no guarantee that they had any traction behind them. With the VH 8 it is possible to test small batches of mixes for small batch production. This mixed with an R & D sized tablet press will allow you to test improve your formulas and find out what the world thinks about them before spending any serious money.
Tablet Press Tooling
The supplement and pharmaceutical industries are some of the hardest in which to stand out from the competition. To give you the edge, we've created an easy process for ordering tooling completely unique to your brand with a quote instantly available. We have a long list of high quality, standard tooling which is kept in stock ready to be shipped the same or next working day, or we can make custom tooling for you in 4-6 weeks.
We also store your tooling specifications so that you can re-order with our 1 click re-ordering system to make the process as quick and efficient as possible and to keep downtime to a minimum.
Sign Up to Our Newsletter