TDP 1.5 Desktop Tablettenpresse
Die TDP 1.5 ist eine flexibel und einfach zu verwaltende Desktop-Format Tablettenpresse, die bemerkenswerte Mengen, Leistung und Flexibilität bietet. In der Lage mit Strom oder mit Handkraft zu laufen, ist dieses Gerät die perfekte Wahl für jeden, der eine hochwertige Presse für Kleinserien-Fertigung und Probeläufe benötigt, dies macht sie ideal für R & D oder ähnliche Anwendungen.
Fill out your details and our team will provide you with a full quote as soon as possible.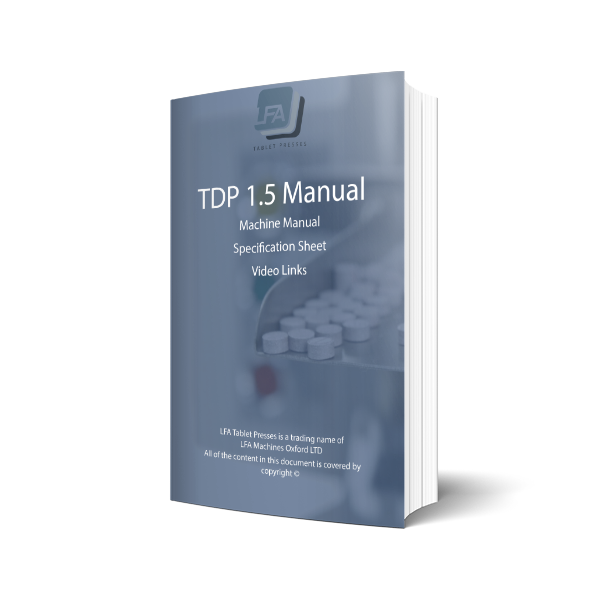 Mehr Information über die TDP 1.5 Desktop Tablettenpresse.
Geben Sie Ihre Kontaktdaten ein, um das Benutzermanual, das Datenblatt und die Video Links für TDP 1.5 Desktop Tablettenpresse zu bekommen.
Wenn Sie nach einer Tablettenpresse suchen, die Ihnen hilft neue Produkte oder Konzepte zu testen, bevor sie in die Fertigung gehen, dann haben Sie sie gefunden. Die TDP 1.5 kann Tabletten in verschiedenen Größen und in kleinen Mengen zu produzieren, und ist sicherlich das Gerät das zu Ihren Bedürfnisse passt. Hergestellt entsprechend den Anforderungen der Labor- und Entwicklungsanforderungen, anstatt für Produktion in großem Maßstab, ist die TDP 1.5 dennoch in der Lage jede Menge, von nur ein paar wenigen, bis hin zu 5.000 Tabletten pro Stunde.
Der Hauptvorteil dieser Tablettenpresse liegt in ihrer Vielseitigkeit, gepaart mit einem starken Feature-Set und der Premium-Qualität seiner Konstruktion. Die letztere garantiert hervorragende Zuverlässigkeit. Aus diesen Gründen ist die TDP 1.5 eine beliebte Option für den Einsatz in Forschungseinrichtungen, Laboren, Lebensmittel-Technologie-Anwendungen, pharmazeutische Entwicklungen, Chemieanlagen und Krankenhäusern oder jede Einrichtung wo insgesamt Flexibilität, einfache Bedienung, gute Menge und Qualität.
Hauptvorteile der TDP 1.5
Leichtgewicht für ihre Klasse
Kompakte Abmessungen
Schnell und zuverlässig
Flexible Ausgabe
Elektrisch oder manuell zu betreiben
Breite Rohstoff-Kompatibilität
Geringer Wartungsaufwand
Niedriger Verbrauch
Funktioniert mit 200 g Mindestmenge an Rohstoffen
Presst Tabletten in jeder beliebigen Form
Anpassungsfähiger Tabletten Durchmesser, Tiefe und Härte
Option für Stempel Design auf den Tabletten
Geeignet für Motive oder kontinuierliche Folie
Funktionen der TDP 1.5 Tabletten Presse
Die TDP 1.5 ist eine einzel Stanz Tabletten Presse und hat einen maximalen Druck von 15 kN. Sie wurde entworfen, um auf einer Bank installiert zu werden, kann aber auch problemlos abgenommen und verlegt werden. Das Gerät bietet eine einstellbare Füllung Tiefe mit einer maximalen Tiefe von 12 mm, und kann Tabletten mit bis zu 8 mm Durchmesser und 6 mm dicke produzieren. Die TDP 1.5 beschränken Sie nicht auf die auf Standard geformten Produkte. Durch einfaches wechseln der Form im Gerät können Sie nahezu jede beliebige Form von Tabletten pressen. Zusätzlich können Sie die Dichte der herzustellenden Tablette verändern. Die Maschine bietet auch die Möglichkeit zum Stempeln von Designs auf den oberen Teil der Tablette, entweder um ihr ein ansprechendes Finish zu geben oder zu Identifizierungszwecken. Durch die Attraktivität der TDP 1.5 für R & D Anwendungen, erklärten mehrere Nutzer, sie finden es einen hilfreichen Aspekt geringe Mengen an Tabletten, jeweils bestehend aus einer anderen Formulierung, für klinische Studien herzustellen.
Diese Presse ist kompatibel mit den meisten der granulierten oder pulverförmigen Materialien, aber ist nicht für die Verwendung mit übermäßig feuchten Substanzen oder superfeinen Pulver ausgelegt.
Mit dem Nutzen im Blick entworfen, ist die TDP 1.5 bekannt als eine hochfunktionelle Maschine, die entweder elektrisch angetrieben oder im manuellen Modus laufen kann. Im manuellen Modus wird die Presse nur einer Kurbel angetrieben. Kombiniert mit einer kleinen Basis und geringem Gewicht für eine Presse dieser Spezifikation, macht diese Vielseitigkeit die TDP 1.5 flexibler und portabler als andere Maschinen, die mit entsprechenden Gesamtleistungen aufwarten.
Technische Daten
Die Abmessungen der TDP 1.5 sind 700 mm x 400 mm x 800 mm, und das Gewicht beträgt 55 kg. Sie hat eine Turm Geschwindigkeit von 1.400 U/min während sie mit Strom betrieben wird und der Motor hat eine maximale Leistung von 0,75 kW bei einphasigem Gebrauch und 0,55 kW bei dreiphasigem Einsatz. Das Gerät kann an Netzspannung laufen die entweder 110V oder 220V beträgt.
Die TDP 1.5 Tablettenpresse im Betrieb
Diese Presse ist bemerkenswert einfach zu bedienen, und trotz ihrer kompakten Größe bietet sie einige Vorteile, die sie von vergleichbaren Geräten unterscheidet.
Um die Presse von Hand zu bedienen füllen Sie einfach die die Rohprodukte in den kegelförmigen Behälter, dann fassen Sie das Rad und drehen es vorsichtig. Tabletten werden dann erscheinen und sind bereit in Flaschen abgefüllt zu werden. Es ist ein ganz einfacher Prozess, den jeder schnell erlernen kann. Wenn Sie einfach ein paar Tabletten machen, dann haben Sie den Bogen schon heraus. Das ist ein Hauptmerkmal dieser Presse. Alternativ, wenn Sie eine größere Charge von Tabletten benötigen, dann stecken Sie einfach den Stecker in die Steckdose und sie wird schnell und effizient mit elektrischer Energie funktionieren.
Herstellung und Prüfung von Produkten erfordert oft die Entwicklung von Produkten mit ähnlichen, aber etwas abwechslungsreichen Formulierungen. Die TDP 1.5 hat einige Merkmale, wodurch sie besonders für diesen Zweck geeignet ist.
Zunächst einmal ist es eine hocheffiziente Presse, die es bei geringer Nutzung möglich macht, mehr Tabletten aus eine bestimmte Menge an Rohstoffen zu erhalten. Zweiten, ein besonderer Vorteil ist es das die TDP 1.5 mit einer Mindestmenge von nur 200g an Material betrieben werden kann. Das ist wirklich ideal für Forschungs- und Bildungsarbeit bei der man einfach nur ein paar Tabletten Vorversuche drücken möchte. Später, wenn Sie vielversprechende Formeln ermittelt haben, verwenden Sie die TDP 1.5 für größere Chargen für den Lauf von vollständigen Tests.
Drittens, die TDP 1.5 erlaubt es, die Wirksamkeit des Testverfahrens zu gewährleisten, indem sichergestellt wird, dass man leicht erkennen kann was produzieren wurde. Dies ist entscheidend, um sicherzustellen, dass die richtige Formel das richtige Thema zur Verfügung gestellt wird. Die TDP 1,5 erfüllt dieses Problem aufgrund der Leichtigkeit, mit der Sie die Form, Größe oder das Design der Tabletten ändern die Sie machen. Vorausgesetzt, Sie haben eine Form für das Design, welches Sie gerne machen wollen, können Sie den Stil sofort wechseln, durch Abnehmen des Trichters und Abschrauben des Feeder-Mechanismus.
Sie können auch rasch die Dichte und das Gewicht der Tabletten an der TDP 1.5 verändern, lediglich durch abschrauben einer Nuss an dem Pleuel und Sie ändern den Druck der TDP 1.5.
Wartung der TDP 1.5 ist ein anspruchsloses Unterfangen. Nichts weiter als ein oder zweimal im Monat eine Begutachtung und schmieren und Ölen der beweglichen Komponenten. Die Ausrüstung wurde gebaut, um diesen Vorgang so einfach wie möglich zu machen.
Unsere Meinung
Die TDP 1.5 repräsentiert einen außergewöhnlichen Wert und bietet unübertroffene Anpassungsfähigkeit. Einfache Wartung sowie die Wahl zur Herstellung von Kleinserien von Hand macht diese zu einer sehr guten Maschine, während die Fähigkeit, auf elektrische Energie zu verzichten und auch größere Chargen von bis zu 5.000 Tabletten pro Stunde zu produzieren, macht sie zu zwei Geräten in einem. Es überrascht nicht das die TDP 1.5 zu den beliebtesten Maschinen ihrer Klasse gehört.
| Name | Wert |
| --- | --- |
| Produkt | TDP 1.5 |
| Anzahl der Matrizen | 1 |
| Max Druck (kN) | 15 |
| Max Durchmesser der Tabletten (mm) | 8 |
| Max Fülltiefe (mm) | 12 |
| Max Dicke der Tabletten (mm) | 6 |
| Max Produktions Kapazität pro Stunde | 5.400 |
| Anzahl der Füllstationen | 1 |
| Doppelschichttablette | Nein |
| Motor (kW) | 0,55 |
| Anzahl der Phasen | 1 |
| Ampere | 13 |
| Volt | 240V (auf Wunsch auch 110V) |
| Höhe (mm) | 800 |
| Breite (mm) | 400 |
| Tiefe (mm) | 700 |
| Gewicht (kg) | 53.5 |
Schreiben Sie eine Bewertung
How Much Profit Will This Machine Generate?
Are you able to calculate the amount of profit your business generates per tablet? If so, this calculator will be able to tell you how many hours you will have to run this tablet press to cover its investment.
It will also be able to tell you the amount of profit it will generate every hour you run this tablet press, which makes this calculator a powerful tool when deciding on which tablet press is right for you or your business.
Profit Generated Per Hour
This machine returns it's investment in hours