Prensa Rotatoria para Tabletas RTP 9
Fill out your details and our team will provide you with a full quote as soon as possible.
El modelo RTP 9 es una sofisticada prensa de tabletas rotatoria que permite a los usuarios producir de manera fácil y eficiente grandes cantidades de tabletas de alta calidad. Entre las características avanzadas de la RTP 9, se encuentran una interfaz digital y una práctica consola de control. Gracias a esto, es fácil para el operador manejar la máquina sin tener que realizar complejos ajustes manuales de pernos y tornillos que requieren tiempo.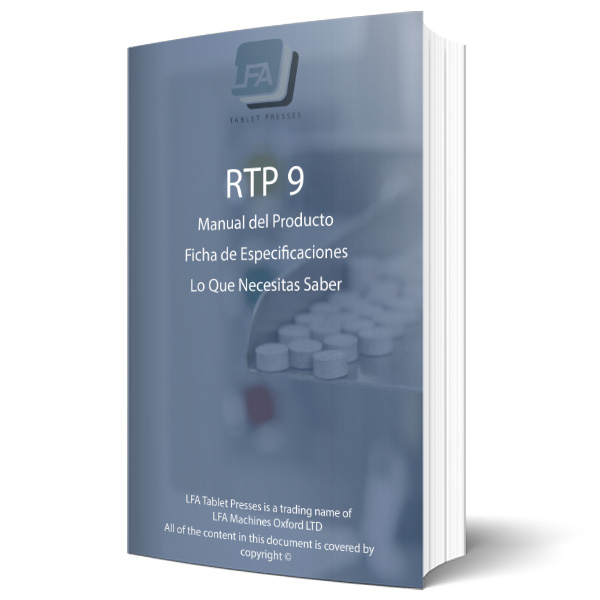 Descubre Lo Que La RTP 9 Puede Hacer Por Ti.
Obtén el Manual Ahora. Empieza Hoy Gratis.
Con un poderoso motor, control de velocidad variable y botón de emergencia para detener la máquina, la RTP 9 ha sido construida teniendo muy en cuenta la calidad y la seguridad. Construida en acero inoxidable basándose en los estándares de NCF, y con la torreta completamente cubierta con paneles transparentes, esta prensa de tabletas cumple con todas las normas aplicables de salud y seguridad en Inglaterra y los Estados Unidos. La prensa de píldoras RTP 9 es ideal para usuarios que necesitan una producción rápida y profesional de comprimidos producidos con materiales granulados o en polvo, y es especialmente popular con clientes de industrias farmacéuticas, químicas, alimentarias y electrónicas.
Para satisfacer el abanico más amplio de necesidades, la serie RTP está disponible en una gran gama de configuraciones. Nuestro modelo emblemático tiene nueve cabezas, haciéndolo así la mejor opción para una rápida producción. La prensa de tabletas RTP también está disponible en configuraciones de cinco y siete cabezas para garantizar que exista un modelo adecuado para ajustarse a casi cualquier tamaño de producción de la mayoría de fabricantes.
Las principales ventajas de la Prensa Rotatoria RTP 9:
interfaz digital para un uso fácil y rápido
consola cómoda y sencilla para controlar la máquina sin tener que hacer ajustes manuales
veloz, producción de hasta 20,000 tabletas por hora
potente, motor de 1.5 kW con control de velocidad fácil de usar
fabricación de alta calidad en acero inoxidable con partes de contacto de acero al carbono
opción de alimentación forzada disponible para obtener medidas exactas en cada tableta
torreta cubierta de plexiglás para evitar contaminación cruzada y asegurar la seguridad del operador
botón de emergencia para detener la máquina inmediatamente
opción de corte de electricidad disponible
cumple con los requerimientos NCF y alcanza todos los estándares de seguridad en Inglaterra y los Estados Unidos
opción de enchufe monofásico o trifásico
opción de elegir un voltaje que se ajuste a su suministro eléctrico
todas las partes son desmontables para un mantenimiento fácil y rápido y un tiempo mínimo de inactividad
troqueles fácilmente intercambiables disponibles en muchas formas y tamaños
Características
Las nueve estaciones de la prensa rotatoria de tabletas RTP 9 permiten una capacidad de producción de hasta 20,000 tabletas por hora. Esta máquina ha sido diseñada con el objetivo de satisfacer la necesidad de una producción rápida, con énfasis en la velocidad y la simplicidad. Una característica clave de la prensa rotatoria de tabletas RTP 9 es su facilidad de operación, lo cual se consigue gracias a una interfaz digital y una consola frontal que simplifican el proceso de fabricación de tabletas. A diferencia de las prensas de tabletas compactas que requieren que un operador ajuste manualmente una cantidad de pernos y tornillos, la RTP 9 le permite controlar la velocidad, el tamaño de la tableta y la presión de los punzones superiores desde la consola frontal. Esto supone un ahorro sustancial de tiempo, además de ayudar a conseguir una precisión superior en el proceso de fabricación. Para mejorar todavía más este aspecto de la RTP 9, está también la opción de obtenerla con un alimentador forzado, el cual le permite una medición precisa de la masa de las tabletas. Estas mejoras permiten que un solo usuario pueda lograr una producción altamente eficiente de tabletas.
Esta máquina está diseñada con la seguridad en mente de principio a fin. Con su rápido motor de 1.5kw y una torreta que gira a 30r/pm, la prensa de tabletas RTP 9 está sólidamente construida en acero inoxidable, con piezas de contacto diseñadas en acero al carbono para mayor durabilidad. También se puede fabricar por encargo con otros materiales. Viene con un botón de emergencia instalado y puede pedirla con una función de desconexión automática de seguridad. La prensa de comprimidos también tiene un escudo de plexiglás que cubre completamente la torreta, para evitar la contaminación cruzada de las materias primas o cualquier riesgo de que la ropa quede atrapada en la torreta cuando esté activa.
Una ventaja en particular de la RTP 9 es su bajo mantenimiento, lo que hace que el tiempo de funcionamiento sea el máximo posible. Todas las partes son fáciles de acceder y desmontar, y los punzones se cambian de manera fácil y rápida. También existe un gran número de troqueles en distintos diseños, formas y tamaños.
Comprimidora Rotatoria RTP 9 en Uso
La RTP 9 es un placer de usar especialmente para alguien que quiera crecer de un modelo más básico de prensa de tabletas. Rápida, libre de problemas y poderosa, esta comprimidora logra el trabajo de fabricar tabletas hechas en el tiempo más rápido posible. En el corazón del sistema de control de la máquina, la simple pero efectiva consola frontal deja que el operador esté libre para concentrarse en la planificación y control de la producción. Tomar ventaja de la amplia gama de troqueles disponibles también es sencillo, gracias a la rapidez y facilidad con la que pueden ser cambiados. Mantener la producción en marcha no es ningún esfuerzo con esta prensa de tabletas, ya que cuenta con una sola tolva de llenado para alimentar todas las nueve estaciones, y el control electrónico de velocidad le permite optimizar el proceso de producción para que se adapte a sus condiciones. Por ejemplo, puede configurar un prensado más fuerte y lento para un producto con el que tiene problemas de aglutinamiento y cambiar la velocidad a una más rápida con menos presión cuando haya perfeccionado la fórmula y desee producir comprimidos a toda velocidad.
La RTP 9 produce tabletas con un estándar muy alto y un peso consistente. Su presión máxima de 40 Kn asegura que las tabletas estén bien compactadas y sólidas. Especificar el alimentador forzado opcional vale la pena, ya que no solo hace fácil lograr siempre las medidas exactas de las tabletas, también asegura un excelente control de costes y eficiencia.
Esta máquina tiene la capacidad de producir tabletas marcadas o sin marcar, y tabletas de forma irregular. El mecanismo de expulsión de la la RTP 9 es fluido y sin obstáculos, por lo que las tabletas sales de manera continuada del troquel, se deslizan por la bandeja y caen en el tubo de expulsión. Tal es la velocidad de producción a la máxima potencia que la parte más difícil del funcionamiento de esta máquina es mantenerse al ritmo de su productividad.
Especificaciones Técnicas
La tableteadora RTP9 cuenta con una dimensión de 1,100 mm x 480 mm x 680 mm, y pesa 260 Kgs. Produce una presión máxima de 40 Kn y tiene una velocidad de torreta de 30 rpm. Su motor opera a un poder máximo de 1.5 Kw. Disponible ya sea para compatibilidad de una o tres fases, la máquina puede ser suministrada para ser usada con 110 V o 220 V.
El fondo máximo de llenado es de 15 mm, y el diámetro máximo para tabletas redondas es de 12 mm, mientras para tabletas de formas irregulares es de 14 mm. La máquina produce tabletas de hasta 6 mm de grosor.
Nuestro Punto de Vista
La RTP9 utiliza su impresionante poder de manera suave y flexible para producir grandes cantidades de tabletas consistentes y de alta calidad. Así como ofrecer increíbles niveles de seguridad para el usuario y construcción, gracias a su consola de operación fácil de usar, el RTP9 es increíblemente fácil de dominar y necesita de muy poco entrenamiento. En general, cuando usted añade la fácil disponibilidad de punzones y el hecho de que es muy poco exigente en términos de mantenimiento, no creemos que exista algo más que la alcance. Si su meta es el producir tabletas en volumen, de manera rápida y eficiente, esta es la tableteadora a elegir.
| Nombre | Valor |
| --- | --- |
| Producto | RTP 9 |
| Número de Troqueles | 9 |
| Presión Máxima (Kn) | 40 |
| Diámetro Máximo de Tableta (mm) | 12 Redonda (14 Irregular) |
| Fondo de Llenado Máximo (mm) | 15 |
| Grosor Máximo de Tableta (mm) | 6 |
| Velocidad de Torreta (rpm) | 30 |
| Capacidad de Producción Máxima Por Hora | 16200 |
| Número de Estaciones de Encapsulado | 1 |
| Tableta de Doble Revestimiento | No |
| Motor (KW) | 1.5 |
| Número de Fases | 1 |
| Amperios | 13 |
| Voltios | 240v (110v bajo solicitud) |
| Altura (mm) | 1100 |
| Ancho (mm) | 480 |
| Fondo (mm) | 630 |
| Peso (Kg) | 320 |
Escribir Su propia reseña
How Much Profit Will This Machine Generate?
Are you able to calculate the amount of profit your business generates per tablet? If so, this calculator will be able to tell you how many hours you will have to run this tablet press to cover its investment.
It will also be able to tell you the amount of profit it will generate every hour you run this tablet press, which makes this calculator a powerful tool when deciding on which tablet press is right for you or your business.
Profit Generated Per Hour
This machine returns it's investment in hours
¿Que entrenamiento proveéis con esta máquina?
Podemos entrenarle en nuestra oficina en Bicester. Durará más o menos un día.
¿Como de rápido se pagan las prensas por sí solas?
Muy rápido. El promedio de coste por tableta cuando se hacen con un productor contratado es de £0.002 - £0.005 dependiendo de cual sea la dificultad al prensarlas y el tamaño del lote. Esto significa que una TDP 5 se pagará por sí sola con tan solo 380,000 tabletas. Con 5000 tabletas por hora eso es solo 76 horas.
Can this machine be left without an operator?
No.
LFA does not recommend leaving any of its machines unattended without an operator ever. Even if they only need to step away for a short amount of time, the operator should turn off the machine.

This will avoid damaging it in the event that there is a jam and the operator is not there to switch it off.
Can I come to one of your facility for training with my own formula?
Yes, you can but there are a number of requirements that we need to fulfil first.
You will need to contact our team and provided them with a copy of all of your MSDS for all of the components of your mix.
We need to have a good understanding of your business and the challenges you are facing.
You will also need to book an appointment with the office that you would like to visit.
For more information please get in contact with the team: https://www.lfatabletpresses.com/contact
Can I get support from LFA if I face problems with making tablets?
Yes. Very easily.
We have free lifetime technical support for all machines sold by LFA.
Just contact us with your machine serial number and we would be happy to help you with any problems.

Can I order custom tooling?
Yes. You can order custom tooling here
What particle size will work on this machine?
As with any tablet press, it is good to have a particle size of around 80-60 mesh.
This would be large enough to avoid large losses and small enough to flow well through the machine. If the powder is finer than this then you are going to experience a larger level of loss.
If the particles are larger than this then it might not flow through the machine well and get caught as it is trying to enter into the die bore.
This being said every powder is very different and you will need to do tries to work out what is best for them.
What technical support and training comes with this machine?
There are a number of ways we are able to support you:
Every machine comes with a full manual to be emailed to you after purchase.
There is a large range of video tutorials to teach you how to use the press.
The machine comes with lifetime technical support, you can call, Skype or email to get answers to your questions and problems.
We also offer free training at any one of our regional offices.
If after all of this you are still struggling to use your press then we are able to come to you.
This is a service we do charge for.
More information on this can be found here: https://www.lfatabletpresses.com/services
Can you set this machine up for an X mg tablet weight?
Yes, the TDP range all have a weight adjustment for it.
It is the bottom of the two cogs on the lower drift pin assembly.
Here is a link to a video showing you how to tune up the TDP 5: https://www.youtube.com/watch?v=4dTscUdRJzQ
It is important to know that the exact weight of each tablet will vary from tablet to tablet.
A well-homogenized mix that has a consistent granule size should be able to achieve an accuracy of +/- 3% or less.
What should we do if we don't want to use any excipients, especially binders?
Do I need a license to own this machine?
That depends on the country you are located in.
In the EU and UK no. You do not need anything to buy the press.
In the USA we have to file a piece of paperwork with the federal government when we sell the press.
We, however, do all of this paperwork for you and do not need to do anything.
The only countries that require a licence as far as we know are Canada and Australia.
If you are located in Canada then we recommend that you contact Health Canada prior to placing your order. Details regarding the import process can be found at the following link: Importing and registering pill presses (designated devices)
The document you need to fill out and file for a purchase originating in Australia is called a B712 it can be found at: https://www.abf.gov.au/form-listing/forms/b712.pdf If you would like to speak with one of our team about this then please get in contact.
How easy to use is the RTP 9 compared to the other RTP's? Is this the best RTP for a beginner?
The RTP 9 is a little more simple to use that the RTP 41 and the RTP 33 as it only has one side to tune. The RTP 10i has more information available to help you tune your press but it has a pre-pressure to tune. It is not that the machine is more or less complicated for a beginner. It really is the same. The main problem that beginners tend to have with their machines is with the formulation. If it is the customers first time pressing a tablet or if they are new to rotary presses then they really should come and see us first.
Is there a system that allows customers to check the warranty period of their machines?
In order to determine whether or not your machine is still under warranty you will need to call or email the office the machine was purchased from and provide the serial number.
Can LFA supply a die driving rod to change the tooling?
Yes, the RTP 9 comes with a die driving rod in its toolbox. It comes with all the tools you would need to perform basic tasks.
Is it possible to fit a force feeder on the RTP 9?
Yes, we have an option for a force feeder. However, this is not always recommended. It is much better if the formula that you are pressing can be free flowing. If you are not sure if you need a force feeder, then please get in contact with us about sample testing your formula.
Can a RTP9 be customized with a force feeder after it has been fitted with a gravity feeder?
It can, but it requires machine and perspex modification. If you would like this, we can source the required pieces, but we do not provide a service to modify the machine.
Can the turret shield be lifted on all 4 sides?
Yes, the turret has a perspex casing for safety. This casing is easy to open and remove so that you can perform all of the maintenance and cleaning without it being in the way.
Can you fit an electro kill switch if the turret shield is opened?
Yes, we can fit a kill switch to the turret enclosure so that it shuts it off when opened. If this is something that the you require, please let us know prior to placing your order.
Can the turret be easily removed for cleaning and maintenance?
Yes, the Turret on the RTP 9 can easily be removed. It has two 32mm nuts at the top that are concealed underneath the shrouding. After those have been removed, you will be able to lift the section that holds the top roller cam. Once this is off, the turret is free to be lifted off the machine. It is important to note that this is a two person job as the turret is very heavy.
Can I have the RTP9 built custom to have a pre-pressure feature
No, sorry. The press is simply too small. Pre-pressure is really useful for avoiding capping and making better quality tablets. If this is something that you require then the RTP 10i would be the press for you.
Can the RTP 9 be modified to press a double layer tablet?
No, the press is simply too small. If you need to make double layered tablets, then you will need a press with at least two stations on it. In the LFA range, this includes the RTP 33, RTP 41, and HSTP.
Does the RTP 9 have pre-settings?
No, the RTP 9 is an analogue press. Every time you use the press, you will need to tune it. This is done through the controls on the front. It has a digital speed control, but it this does not have the ability to save settings.
How difficult is it to switch an RTP 9 tooling to a B or D tooling?
Sorry, this is not possible at the moment.
Is it possible to purchase spare parts for RTP 9 as they are not on your website?
Yes,it is possible. If you can not find the part that you are looking for, then please let us know.
Does RTP 9 come already set up for an immediate use? (meaning just open the box and plug it in) If not, do I need an expert to be able to set it up properly?
You do not need be an expert to set the RTP 9 up. However, if this is the first time that you are making a tablet, then we recommend training at the LFA office beforehand. It is a common assumption that our machines are self-running, but this is not that case. The hardest part is formulating the correct mix.
Is it possible to connect one of your de-dusters directly to RTP 9 and make it work?
No, at the de-dusting system is not able to fit the RTP 9. We recommend using a bagless hoover instead. You will have to stop the press periodically to remove excess powders
How can you compare operating TDP and RTP machines? How does the difficulty of use compare?
The RTP 9 is easier to use. It does take longer to change the tooling. Once you have, you can tune it much more easily. It will then make four times the number of tablets per hour. It is, however, more tedious to clean and larger, making it more difficult to move.
Overall, it comes down to how many tablets you need to make and how often. If this number is more than 50,000 per week, then the RTP 9 is definitely the machine for the job.
Is the tooling for all RTP machines the same?
No, there are 3 specifications for Rotary Press Tooling and a number of different sizes that fall under them. These 3 specifications are RTP, Euro, and TSM. Under TSM and Euro tooling specifications, there are 4 common sizes: B, D, BB, and DB.
Our tooling specification guide can be found here: Tablet Press Tooling Specification Guide
Does an RTP 9 have an option of changeable speed?
Yes, the speed on the RTP 9 is adjustable from around 10 rpm to 50 rpm. It is a good rule of thumb to run your press at about 70-80% of maximum capacity, as this will allow you to make much more consistent tablets without facing problems such as capping.
Which parts of an RTP 9 need to be greased and how often?
There are a number parts on the RTP 9 that need to be greased or oiled at different times and in different ways:
Tooling - Every time the press is used, the tooling should be cleaned and lubricated. Barrel lube should be applied the barrels of the punches and grease should be applied the heads of the punches.
Upper and Lower Pressure Rollers - These both have grease nipples. We recommend topping them off every 100,000 tablets.
Worm-gear: This is in the green box in the lower section of the press. It has an oil window on the side. It should be inspected every time before starting your press. If it appears low, it should be topped off.
It is really important that the press is cleaned after every use. Leaving powder on the press can cause it to rust very easily.
More information on greasing your machine can be found here:RTP 9 Lubrication Schedule
How much easier is it to use the RTP 9 in comparison to the other RTP's? Is this the best RTP for a beginner?
The RTP 9 is a little more simple to use that the RTP 41 and the RTP 33 as it only has one side to tune. The RTP 10i has more information available to help you tune your press, but it has a pre-pressure to tune.
It is not that the machine is more or less complicated for a beginner. The biggest challenge that beginners tend to have with their machines is mix formulation. If this is your first time pressing a tablet or if you are new to rotary presses, then we recommend training at the LFA office beforehand.
What is the actual hourly output? Does the tablet size or thickness have a big impact on this?
The maximum hourly output is about 16,200 tablets per hour. This is the speed that the machine will spin with no powder in it. The size of the tablet does not have a big effect on this. What does have a big effect is powder's ability to flow. If the powder does not flow well, then you will have to reduce the speed of the press until the die bores have time to fill.
In what scenario would you recommend the RTP 9 over the RTP 33? The RTP 33 seems to have a much higher output for only a bit more in price.
The RTP 9 is much smaller than the RTP 33, which for some might be more preferable. On top of this, the RTP 9 has stainless steel surfaces. This makes it much easier to clean, making it more likely to pass food grade conditions for certifications such as GMP.
How many sets of tooling do I need to purchase to operate the machine?
To operate the machine, you need 9 sets of tooling. However, you won't need to initially purchase any tooling for the RTP 9 since it comes installed with 8mm flat faced bevelled edge with breaker tooling as a standard. If you would like a different set of tooling, we can install this for you. You will just need to purchase it here:RTP Tooling
If you would like custom tooling, you will need to fill out a custom tooling form which can be found here:Custom Tooling Form
Does this machine need to be watched while it operates? Can it be left running unattended for any amount of time?
While it is not like the TDP 5 which has to be very closely watched, LFA does not recommend operating a press unattended at any time. In the event of a jam, the press needs to be stopped immediately.
What safety features are there on the RTP 9?
There is an emergency punch stop as well as perspex casing around the press. If you have further safety requirements, then please get in touch with us to discuss this prior to placing your order.
Does the RTP 9 tell you how many tablets you have produced?
No, the RTP 9 does not have a tablet counter. The RTP 41, RTP 10i, and HSTP do. If you do need to calculate the number of tablets produced then there are two ways to do so. By multiplying the running time (in mins) by the speed on the front panel, then multiplying that number by 9, you will get an approximate tablet count. You can also weigh the total number of tablets and then divide that number by the average tablet weight.
What's the maximum pressure when the press is running at maximum capacity?
60kn. The speed does not affect the pressure.
Does the punch need special tools for the assembly and disassembly? Will I need special tools for removing the punch?
Yes, you will need a set of special tools for a tooling change on the RTP 9. The is a die drive bar and a die ejection tool. All of the tools that you need to do a tooling change and maintain the press, in general, are included in the box when you receive the machine.
Can you put TDP tooling in the RTP 9?
No, TDP Tooling and RTP Tooling are very different. The TDP is a single station press with tooling that stays fixed in one place. The RTP 9 is a rotary press with tooling that moves around the press on something that similar to a track. As such they are very different.
What's the slowest speed that the RTP 9 runs in relation to tablets per minute?
This will depend on the pressure that you have set on the machine. It will turn at about 5-10 rpm, making 45-90 tablets per minute.
What type of tooling comes free with the press?
The press comes installed with 8mm round flat face bevelled edge with breaker line tooling. If you would like a different style of tooling, then reach out to our sales team. RTP tooling takes about 6-8 weeks to make.
What is the lifespan of the RTP tooling?
The lifetime of tooling is difficult thing to calculate. This is because it is dependent on a number of different factors.
The first thing to consider is the product that is being pressed. The softer the product, the less of a sandpaper effect it will have on the tooling. If the product is very coarse, however, then the likelihood of wear increases as it moves over the face of the upper and lower punches during compression.
The next thing that affects the life of the tooling is its shape. If the cup of the tooling is very deep, then the powder will have to move a lot further over its surface during compression. As a result, this causes more wear and shortens the life of the tooling.
The surface of the punch will also determine how long the tooling lasts. For coated tooling, the material used to coat the punches will influence the tooling's longevity. For uncoated tooling, the type of steel should be considered in relation to the tooling's lifetime.
Ultimately, it is impossible to give an exact figure without running the tooling in a production environment.
A good rule of thumb is this:
The standard life of shelf tooling from LFA should make 2-5 million tablets.
Standard S7 tooling that has been customized will make around 10m tablets.
A well designed set of customized tooling that has been coated can make up to 65m tablets.
These estimates are applicable for tooling that has been cleaned properly and used correctly in the press.
Which Tablet Press Is Right For Me?
We've made a short quiz that will tell you in under 1 minute which tablet press is the right one for you or your business.